I have to say that moving to Germany, that my 1st goal was to share with the family as many of the amazing things I got to see/do as a child. People often romantisize thier youth and I worried that perhaps, I had as well. I mean, really, how could it have been really as amazing as I remembered? I had awesome parents who, despite raising 5 children, always had a clean home, money to take us everywhere I could imagine and time to volunteer for everything under the sun. I was a little afraid that over the last 20 years I had put on rose colored glasses and had raved one too many times to my husband and children about the amazing experiences I had as a child growing up in the military here in Germany.
NOPE
! I totally didn't! It
was
this awesome! Ok, so that's a lot of exclamation points, but I'm excited.
When you 1st get to Germany, you rarely have your vehicle immediatly so it tends to mean exploreing VERY close to home..lol. We had to rely on the bus system for a few weeks, but hey, that will make you really appreciate what you've got!
The 1st place we ventured out to was our local town of Vilseck. It was cold, and windy....and .....tiny! It took us less than 45 minutes to walk from the bus/train station to the far edges of town, explore the TINY castle they had and stand around wondering what else to do before our next bus..lol. It was REALLY cool though! Here are a few of the things we saw in Vilseck.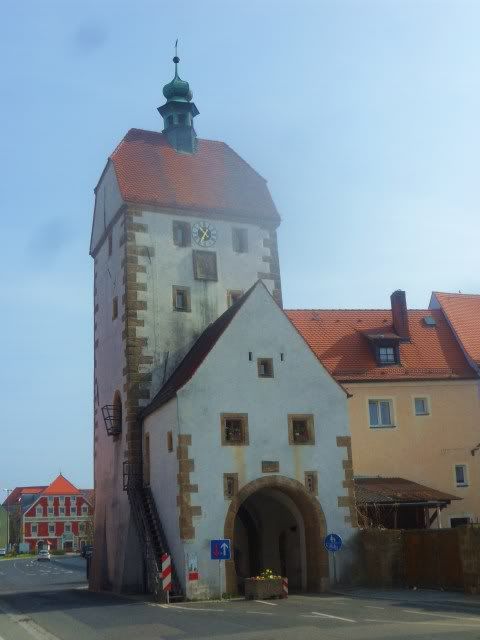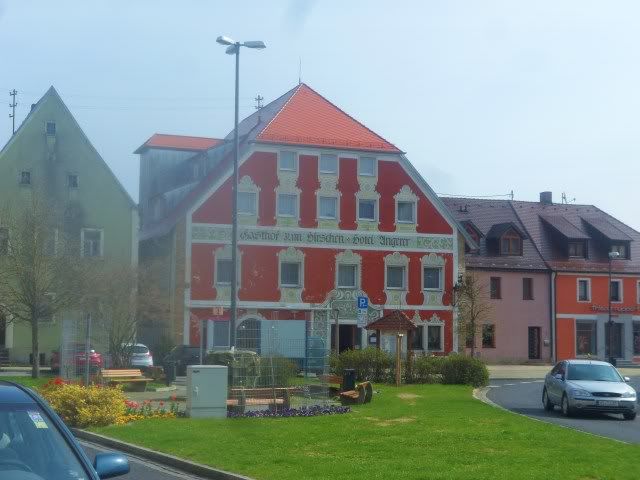 The fam exploreing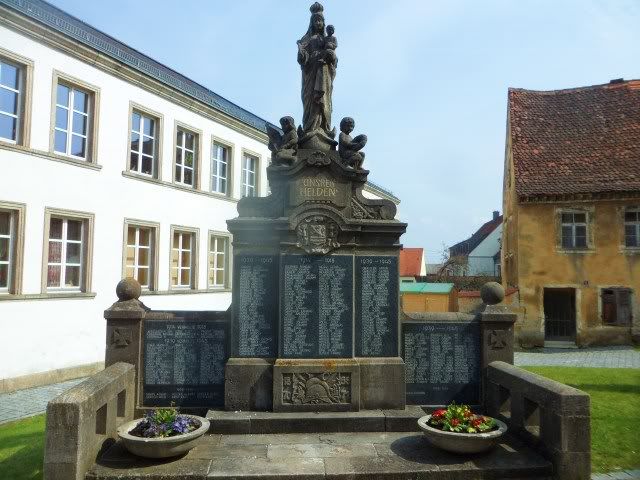 Matt and Mikey warming up in the local greek place. OMG such good food! This is also where Matt and Michael discovered Mezo mix/cola orange (which sounds gross but is oh so good!) That and I love this photo of the two of them.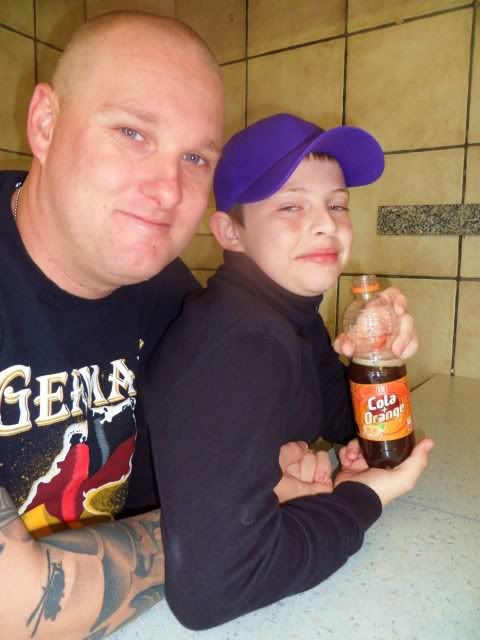 There are no photos of me in the this post because I made a very unfortunate fashion choice that morning and everyone failed to tell me that I looked like a very fat, pregnant zebra. Ya it wasn't pretty. Don't imagine it!
The 2nd place we got to explore was Amberg, it's the nearest "large" city...lol Large...ahhhh giggles. Ok so it's not Vilseck small but it's still smaller than lets say....Idaho Falls? So not a LARGE city but it has some great shopping and really wonderful old town sites! We were lucky enough to go on a weekend (once we got our car, since Amberg is approx 30 minute drive away from post) when they had a festival going on. What festival you say? No clue, they have festivals here like I've never seen and I can NEVER remember what each is for. They had a huge duck race (rubber ducks float the river like the one in Idaho Falls). We took Cody and Mikey's friend Avery with us so if you wonder who the extra child is, it's not mine..lol
This is on the drive to Amberg. This is what it looks like where we live. Every inch just as gorgeous as the next. They grow these amazing flowers here, I can't find the name of them yet but I've been told they use them from everything to making an oil to cook with to medicinal uses. I just think it's beautiful! The entire landscape is covered in it with little picturesque villages and church spires popping up in them.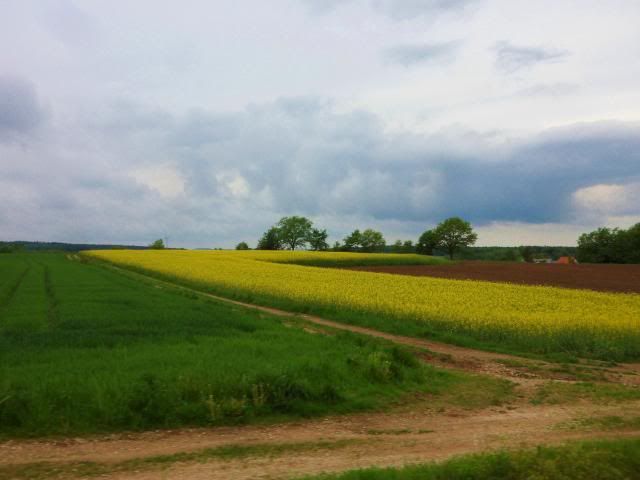 Entering the Alt Stadt (old city center)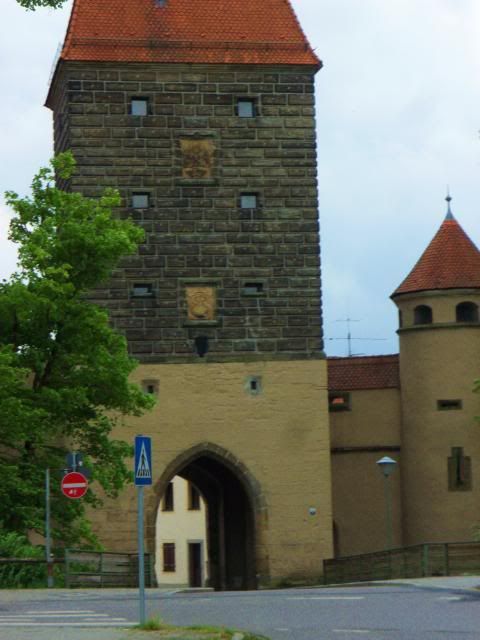 Look at the color of this building! Sigh.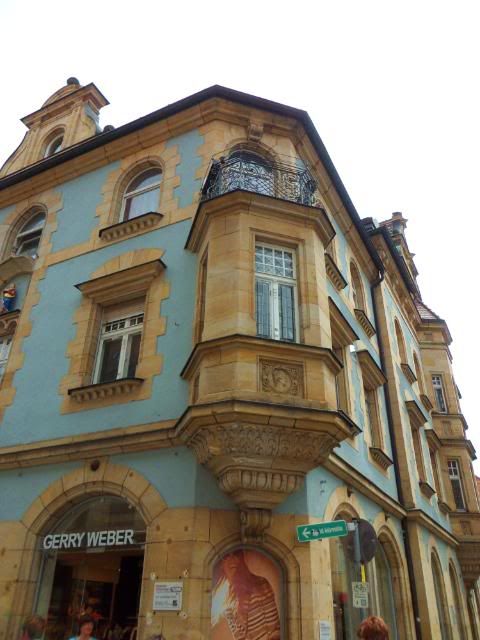 Look at Matty's face.....Ya. Evidently Matty had a mini melt down because neither Matt or myself have yet to discover a money tree and he wasn't allowed to buy a 70 Euro toy! lol
Matt and I
Just some random door knocker but OH I love finding little gems like this.
And one of my new favorite finds! I have hated dehydrated fruit as long as I can remember. One of the vendor was selling these and all of us went nuts over them! SOO tastey!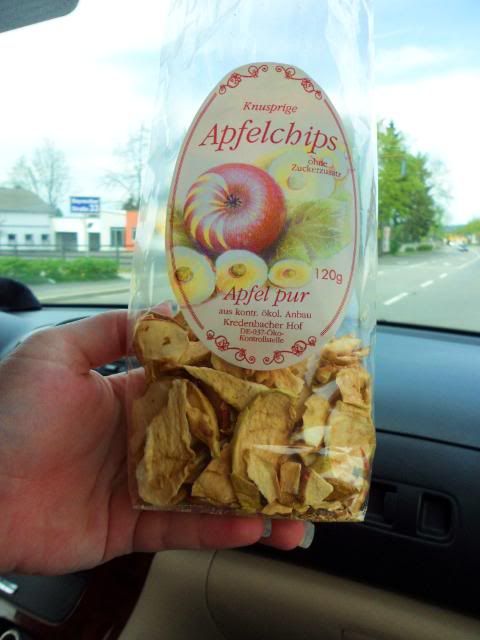 So these are two of the nearest places to us for exploreing and we really had a blast. I love the looks we get from the locals when we traipse out of the big old man van with 4 kids (5 the day we had Avery with us) and my big old pregnant self and Matt and I tattooed up..lol we get a few..."WHOA" looks but thats ok, they aren't used to large families like ours here and we like breaking the sterotypes that say if you are tattooed you are trashy. It's fun seeing their initial reactions and then how they soften and smile when our kids are well behaved and we are kind and smile at them and attempt to speak the language. Even attempting to speak German really means a lot to them. So take note. At least TRY to toss in a few words here and there, don't ASSUME that because you are American that most here will speak English to you. They usually will/can but it's just so nice to try!
I was already in love with Germany....but now my family is! Oh happy day!
(spell check isn't working so you get to enjoy the amazing errors I make whilst speed typing...yippee!)