One of our favorite things to do while in Jackson was the scenic float trip we took and the white water rafting trip Matt and I went back another day and did alone, that we took through Mad River Float Trips. Awesome company! Loved everything they did to ensure every one's safety and they were super fun! The boys had an absolute blast! We had planned on taking the older two maybe even the older three boy's white water rafting with us but due to the massive amounts of snow they were having melt and the rain the rivers were far above their normal levels and were very dangerous. I was NOT comfortable with the younger guys going with us so we opted for a slower moving scenic float trip with them and despite it being overcast and even rainy at one point it was breath taking! I think the overcast skies added to the beauty and made for better wild life viewing!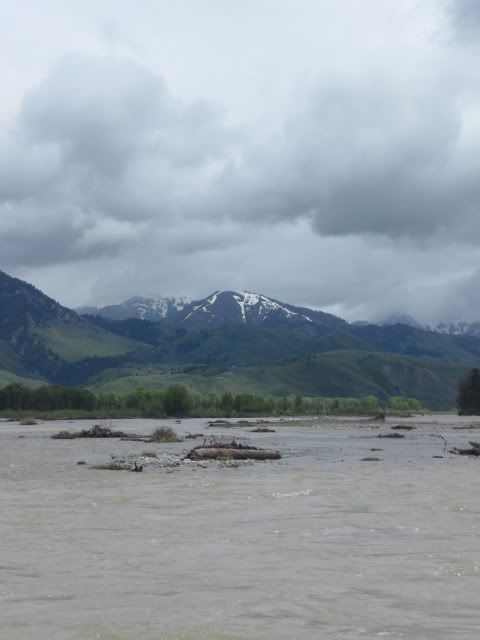 Matty was frozen and bored and his life jacket had a very chinese effect on him. LOL he refused to move from the position until the sun came out.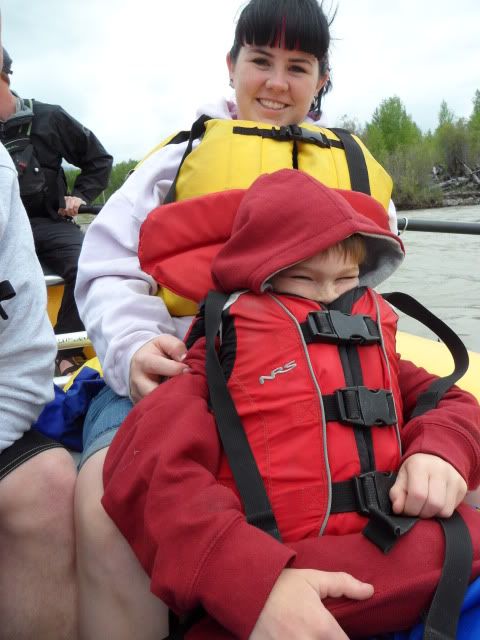 Why he kept taking pictures of JUST me while we ate lunch I don't know..lol really, why pictures of me eating?? lol Silly man.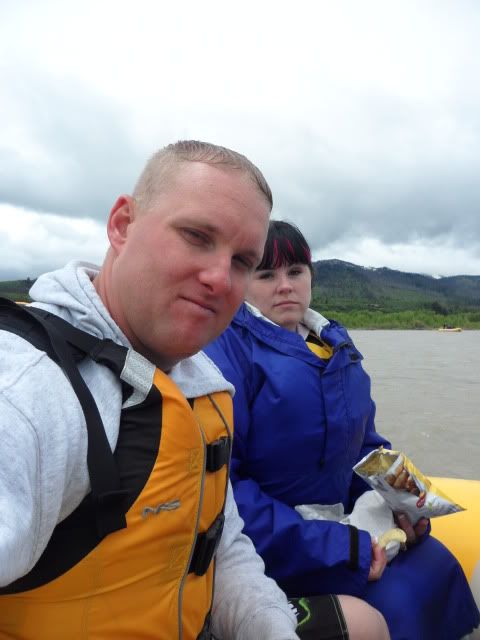 Matty didn't have to wait too long for the sun to come out and was thrilled to be asked to help steer our raft with the help of our guide. Each boy got to help and they LOVED it!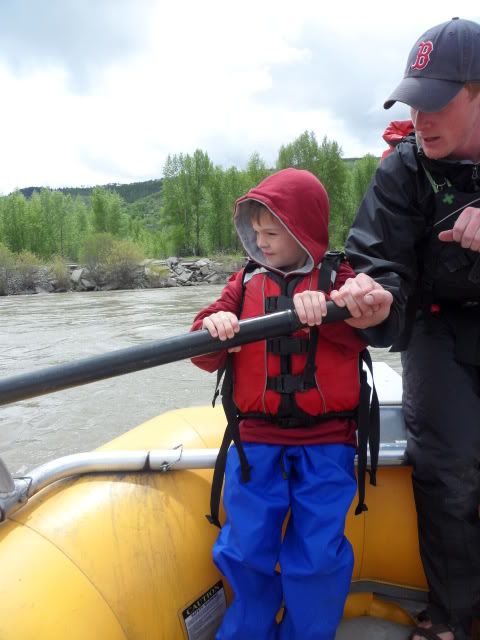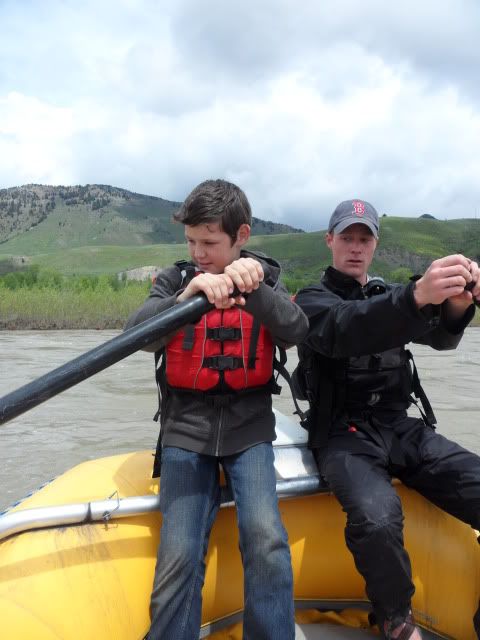 Since Aidan was too small to go Mom once again saved our bacon and watched little man, Aidan and his dollar store truck were thourghly entertained!
After our scenic float trip we explored town square a bit more. The kids loved the Giant bear in one of the shops.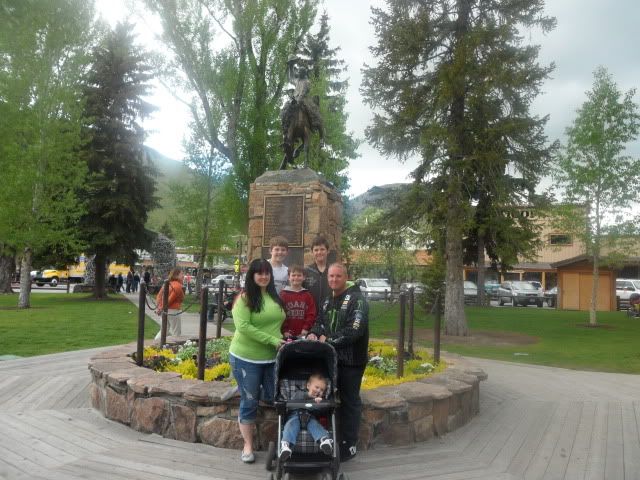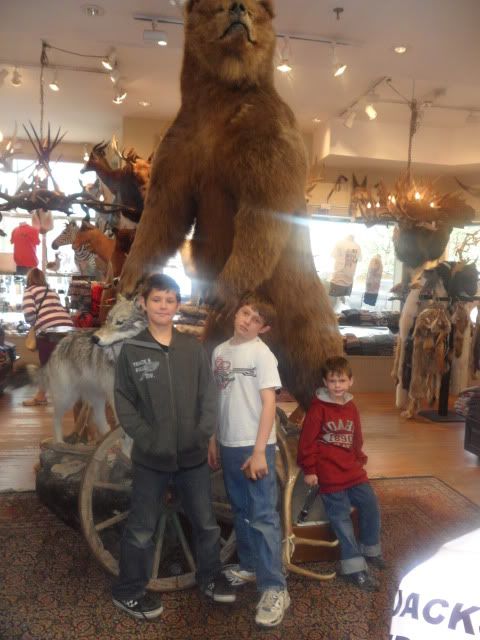 Then, one of the really fun bits..lol Who doesn't get old timey western photos done while in the old wild west? Probably plenty of much cooler people than us, but we did and we had a blast! My Mom actually REALLY wanted to go do these... Seeing my Mom holding a blottle of Jack Daniels almost made me pee my pants a little! No....really. Holy weirdness batman! We all looked really cute, and Matt made me giggle over and over by telling me that the ladies who helped set up the shoot had dressed him to look like Woody from Toy Story...lol HAHAHAHA, he had on ENOURMOUS furry chaps.....bbwwwhahahaha. Ahhhhh good times!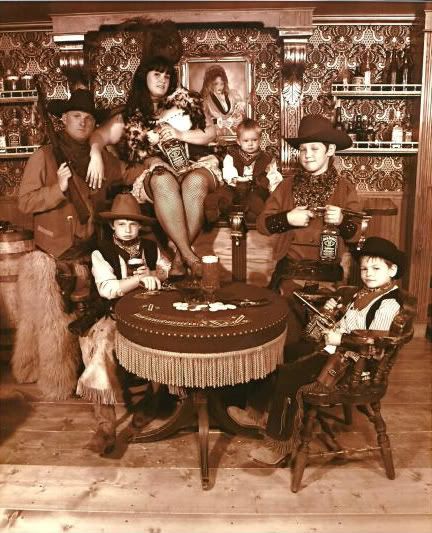 I love this one..lol Cody played his part very well!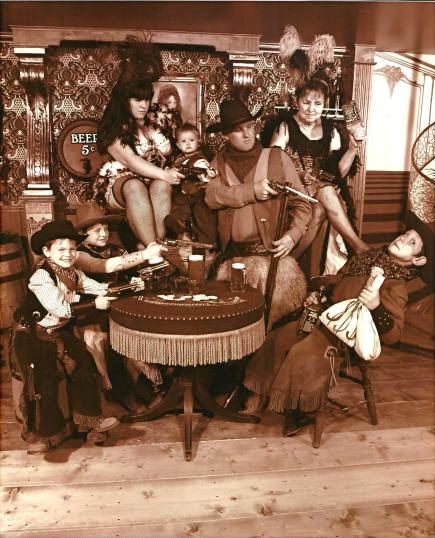 And here is Aidan sticking his finger in the fake beer. He thought the weird rubbery foam was funny and just kept sticking his finger in it. Did you notice he also kept sticking his fingers in the barrels of the guns in the previous picture? Yes, we will work on gun safety ..lol At a much more age appropriate time. Ha.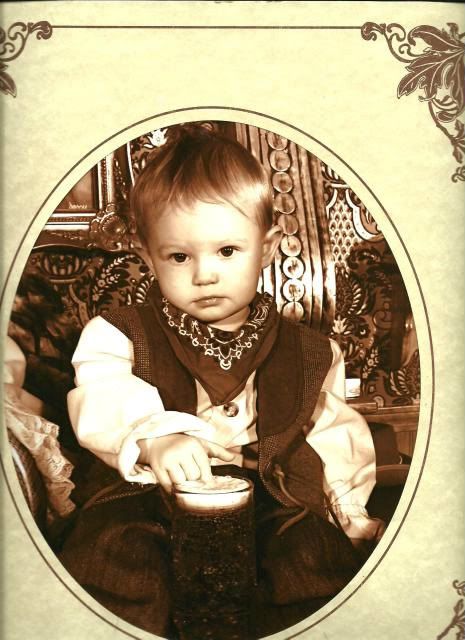 After the photos we went to an old fashioned Chuck Wagon dinner at the BAR J CHUCK
WAGON and it was worth every penny! The food....wassss ok, the entertainment was AMAZING! Man are those guys talented musicians, singers and comedians! The kids got to take a wagon ride, eat bisquits from the dutch oven, eat beans and corn bread and what not and listen to some great western music. It was awesome and I highly recommend it!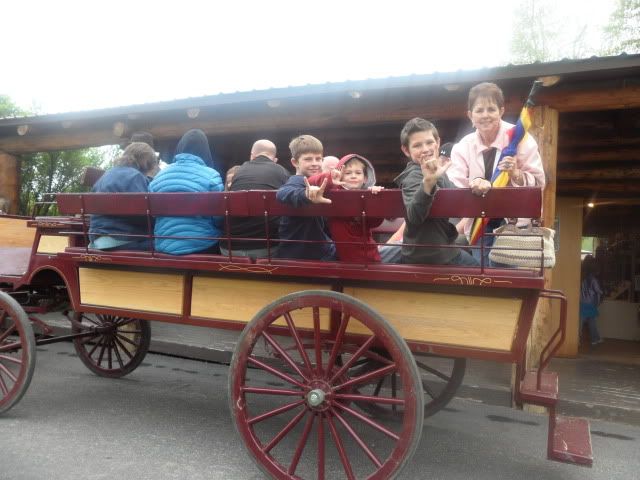 Here is Cody pretending the bear is eating his head. What a goof ball.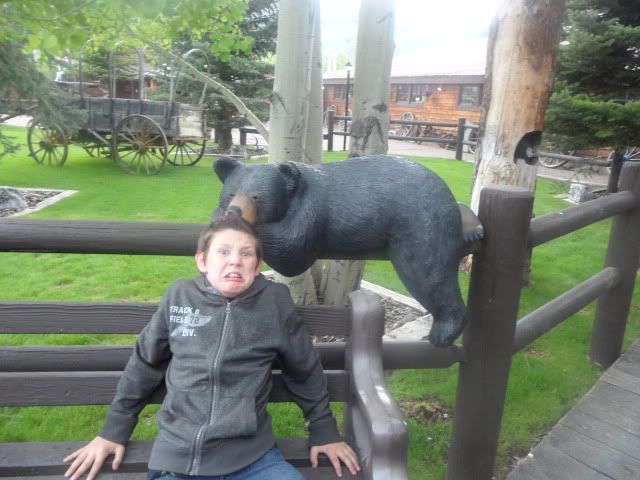 Matty and Michael waiting for more bisquits! So worth the wait!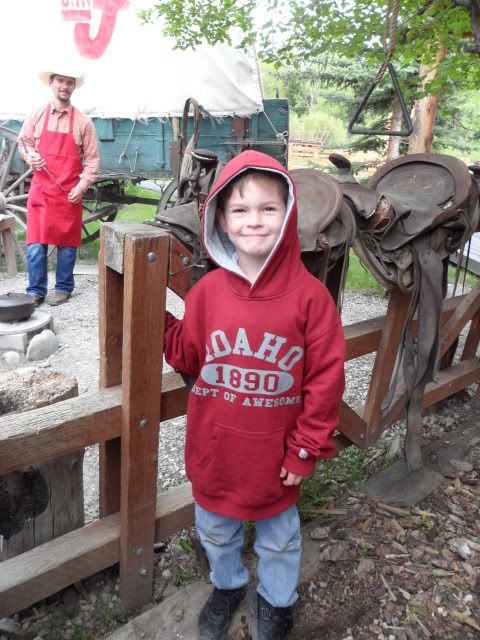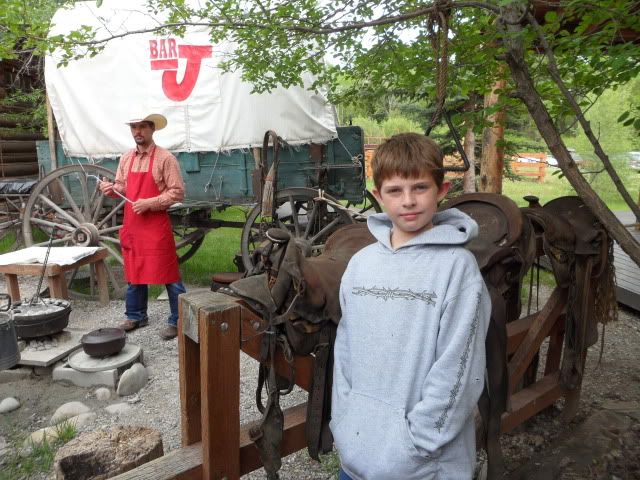 One of the things I loved seeing on this trip was the facial expressions on the kids and my sweet husbands faces when they would see yet another breathtaking view. Everything there is just beautiful and there were so many photos we took of just the scenery! It's worth every penny spent there just for that! Especially the drive through the pass. When we go to the top we had to stop and let the kids get out and play in the snow........in June.
Another photo of Matt and I that I adore! We look so cute and the view in the background......AWESOME!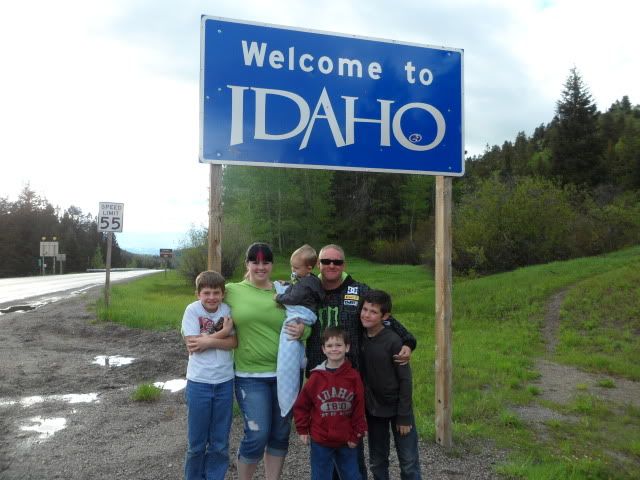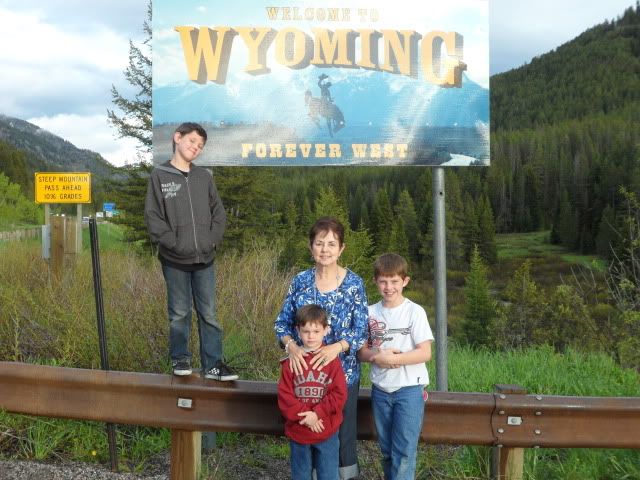 Unfortunatly there was just too many things we wanted to do while there and we couldn't fit it all in so Mom made a special day and watched the kids back at her house at the very end of R&R and that allowed Matt and I to go back again for a whole day for just the two of us, which is when we went white water rafting again through the same company, Mad River Float Trips. They have photographers placed along the route and they grab some pretty awesome photo's of you rafting the hardest part of the river. We almost flipped our raft at one point. I'm not sure if you can click and enlarge the 3rd and 4th photo or not but our guides face went from one of concentration to one of "Ohhhhhhhhhhhh @%!!!!!!!" and then back to calm..lol he told us after we finished that portion he just "knew we were flipping" and some how we pulled it out of it. Phew! It was amazing! I love rafting and wish we could go more often! Seriously cool!
Lastly we went to dinner theater at the Saddlerock Saloon and saw a live preformance of "Seven Brides For Seven Brother's" which was so good!! Tiny theater, great food, really talented people and amazing sets! I was very pleasently surprised! Surprised by the food, the musical/acting talents and surprised in the extreme that Matt didn't just "sit" through it for me but REALLY enjoyed it!
Ohhhh Jackson Hole, We love you! I can't wait to some day go back again and hopefully get to share it with Matt's family. It was one of the things we talked about nonstop, how lucky my family is/has been to be able to go there all the time and how much his family would LOVE this! Oh by the way if you are looking for a cheap, clean place to stay, very centrally located we can vouch for the Antler Inn! It's only 2 blocks from town square. We got there and some how lucked out with the older "original" 1930's lodge. The newer parts are lovely, and yes this was older by far but really was great ambience and we got 4 bedrooms, 2 bathrooms a full kitchen and living and dining room. There were 6 queen sized beds! The couch could have been pulled out as well! Normaly it's charged a good deal more (but still VERY cheap for the area and amount of space!) than we were charged, we were given one HECK of a great military discount! I don't EXPECT a military discount but I won't turn one down either! That place made it financially easy for us to stay a few days and get to do all that fun stuff! Thank you Antler Inn! Thank you like Mad Mom for all the help!!!!