i hate when you have to buy someone a gift early on in the month and can't hide it and then comes their birthday or holiday and you feel like you didn't have anything special to give them on that day..lol Matt and I are wretched about giving one another gifts too soon, we have zero patience when it comes to good things..lol the kids and I got him a bbq grill and colonge (Unforgiven by Sean John....OHHHH yum!!!!) Since he had to lift the grill I couldn't very well hide it from him, and once he got a hint about the colonge he was dieing to have it..lol. On Fathers day he got breakfast in bed I cooked, since Michael and Cody's sweet Mothers day breakfast caused me a few gastro issues I thought this best..lol Mind you this photo was taken mid way through his breakfast, he wouldn't let me get a picture until he put a shirt on..lol so it DID have fried eggs, bacon, french toast, coffee and water but of course all that the photo shows is some french toast..lol making me look uber lame in my "breakfast in bed" skills..lol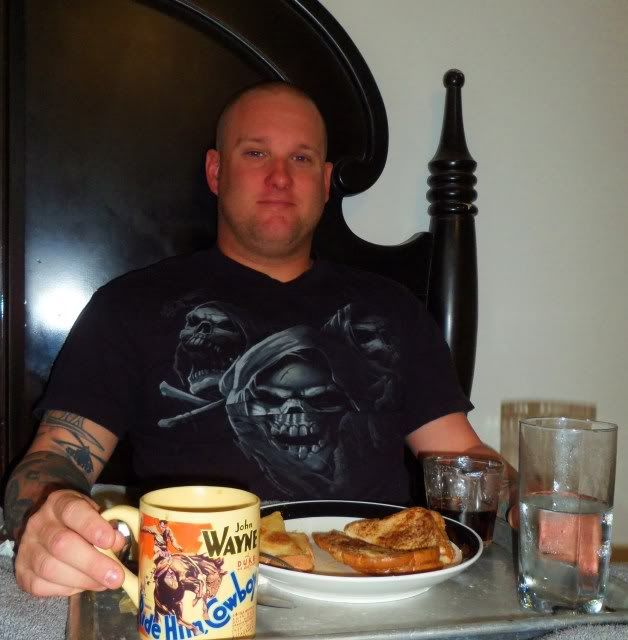 I even made coffee.....ya,ya, who can't brew coffee...I just prefer my coffee as sugar and cream with a hint of coffee where as when Matt drinks coffee it's black most days with a rare hint of sugar..lol
Looks like my version of Coffee was a tad sweet for him...HAHAHAHA
As a part of Fathers day we asked him what he wanted to do and mostly it was just be home with the family but we opted to hit the park for a bit since we all were having a bit of cabin fever.
I love this picture we took down by the little lake.
It shows what kind Father he is...he'd prefer to spend it spoiling the kids than himself and I love that about him. He learns and grows everyday as a parent and although neither of us are perfect parents we are perfect for each other and this family. Of course we (he) grilled for us later that day, I don't know why men do this...lol I was all ready to grill it up for him but he wanted to be the grill master, evidently it's off limits to estrogen..lol which I am soooooo ok with...Who wants to labor over a hot grill in the sun? Not this gal..lol so Daddy cooked us dinner which was sweet but I would have love to cook for him to make his day just a little more special.
Mommy and Leland...29 weeks.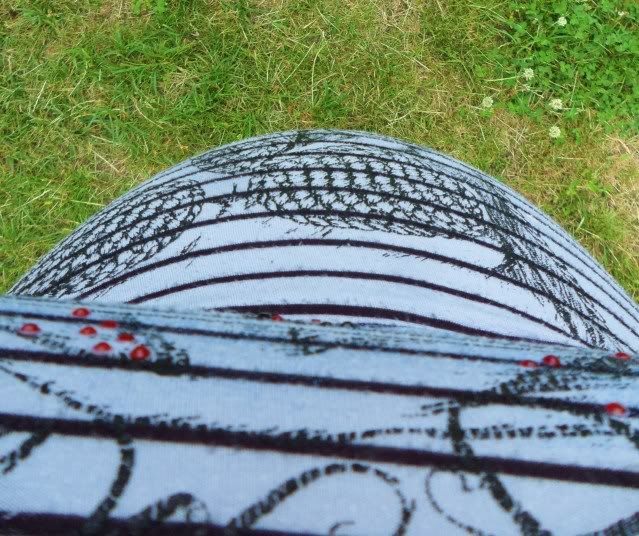 This one makes me giggle...
Beer VS Baby....jk ok so he had to push realy hard to get that gut but it was funny!
I had to stick this one in there because EKKKK look how sweet Cody is with Aidan.
I wish I could have gotten some better ones of Matthew and Michael but they were both really fast and bolting around the park.