Before we get into Aidan's mystery fevers I have to add this adorable photo of Aidan's 1st hair cut. Can we say cute!!!!!
So since Novemeber Aidan has, like clock work, gotten mystery fevers each month for anywhere from 1 week to 16 days without a break in them. They don't start as some low grade fever and then sneak it's way up, he's goes from 0-60. No fever what so ever to 104 point whatever. It usualy can't go below 102 even with all the mortin and tylonol I can throw at his poor little liver safely. Pedialyte, water and fever reducers have been our friends for months.
After mutiple doctors visits I had to cave and aknowledge that Bayne Jones Army Community Hospital unfortunatly were not able to figure out what this was and were allowing it to go on and on treating it as though I were crazy and over reacting even after taking him into the E.R. with once monthly fevers of 106.5 and the shakes. Really?? He's not sick? He is....teething, or has an ear infection, or a bug, or a virus, or whatever other random non-answer you can come up with this week? Finally Not long after the spur ride I ended up taking the little guy up to Rapids Regional in Alexandria since they have a pediatric department. As soon as we hit the E.R. He was seen and it was taken very seriously. We were only in the E.R. a short while before they decided to admit him. He looked great after some IV fluids and massive doses of meds in the ER so they let him ride up in a little red wagon. AWWW!! kill me much!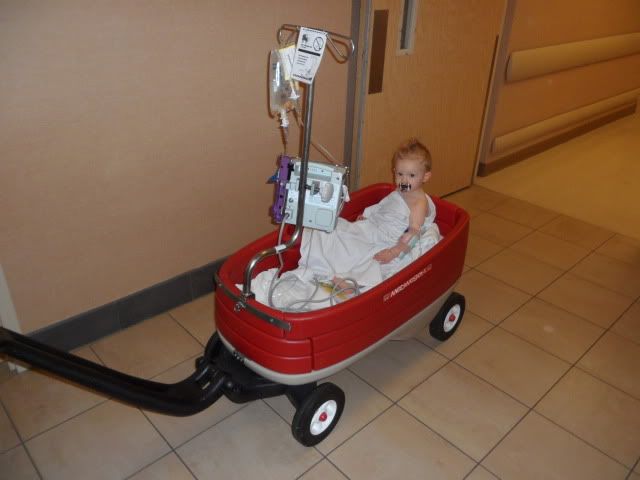 As you can see here that "looking great" didn't last long. They were stumped as to why he was fevering so high. His White blood cell count was super high, and after 3 times a day blood draws they still couldn't figure it out.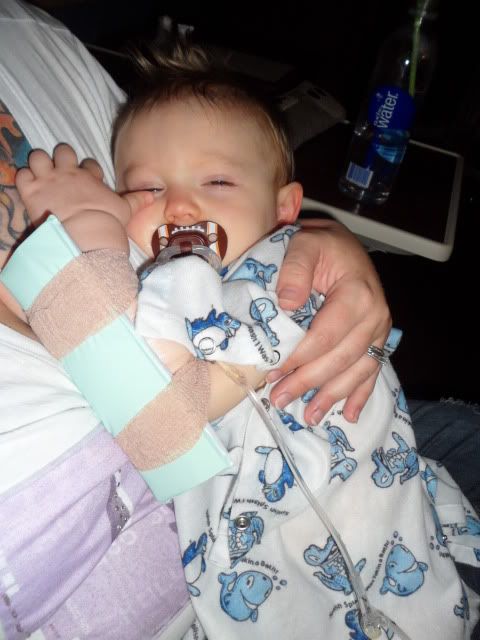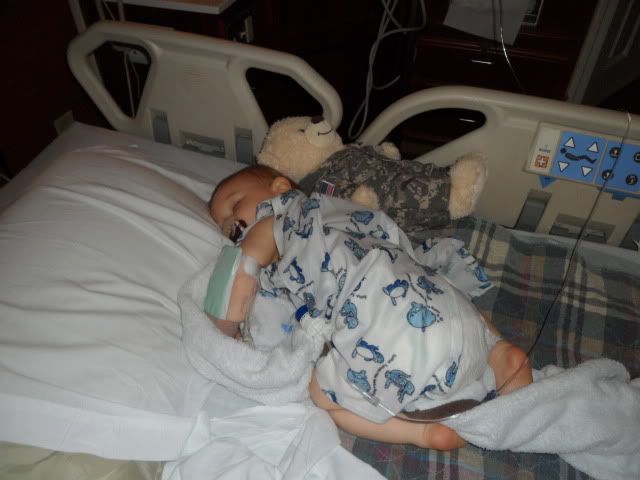 By the 3rd day, still no idea what was going on, they would come up with an idea of what it "might be" test some more and then....nope..ruled it out. Everything from Leukemia's to Staph infections to mystery virus's (which at this point is still our best guess), but by then he had been given a spinal tap, and tested for everything under the sun and massive doses of 4 different antibiotics and he was starting to perk up.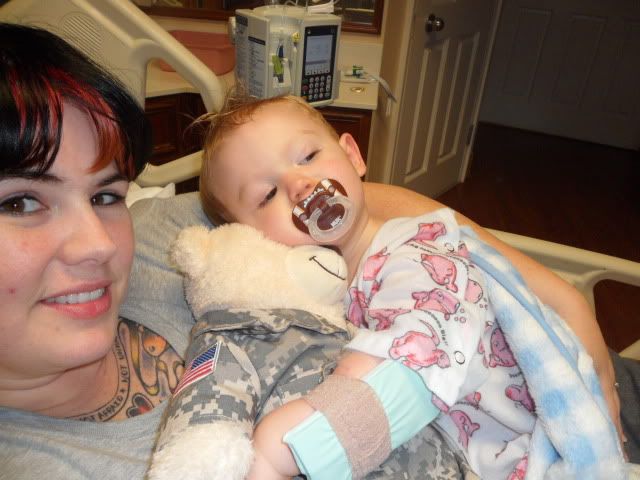 Fevers would crop back up and make him miserable and stop them from releasing him and drag out the hospital stay. Thankfully I have some really amazing friends who helped out! Even Jon helped out taking the boys early for the weekend and keeping them an extra day. Jessica, Mary, Allysha and Caite saved my butt! I didn't have to worry about the older kids at all. I knew they were getting to and from school, I knew they were being fed and clean and my friends were even driving up to Alex to bring me clean clothes (that they had to dig through the pile of clothes in my room..lol sorry after a baby has been sick two week straight, Momma can only clean so much and my room was the last place in the house anyone was going to go, or so I thought, so it was the last on the list of places to pick up) and baby food from the grocery store because Aidan was refuseing to eat hospital food of any kind and if he wasn't eating they wouldn't release him either.
Poor Matt was so stressed out. That is something you never want to do to your Soldier. Worry them or stress them out when they have plenty to stress and worry about while deployed. I had been down playing how sick he was when Matt would call so he wouldn't end up too stressed but when he heard Aidan was admitted and Mommy was sleeping in the hospital with him he definatly hit that "freaked out" stage. He was lucky to get to call as often as he did to check in on Aidan. 2-3 times a day. It really made both of us feel better. This is Aidan talking to Daddy on the phone. Aidan had a lot of phone calls from loving family. Nana, Grandaddy and Oma called often to keep him entertained. Evidently your forehead is necessary for proper phone calling protocol..lol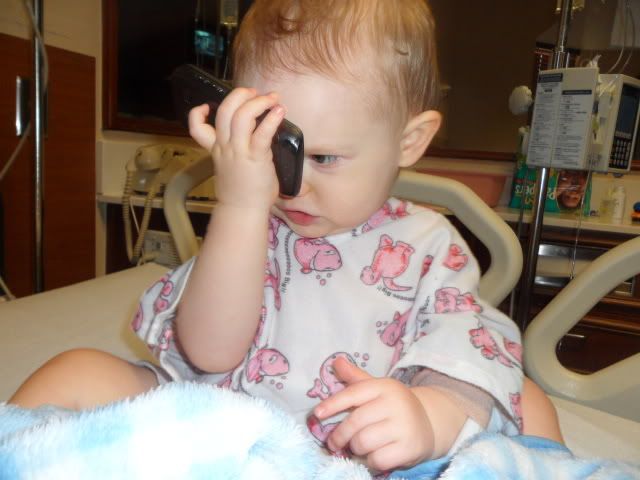 This is just hours before we got to be released. The specialist said if it had been anyone else he wouldn't have allowed us to leave but that I was very well informed and had done a great job making sure I was an advocate for Aidan's health and that I knew what sympotms to make sure he was brought back in for while we waited for some tests that would take another 2-3 days instead of making us stay in the hospital to wait for them. He was still so pale but after almost a week he was wanting to get down and play on the floor for about 30 minutes.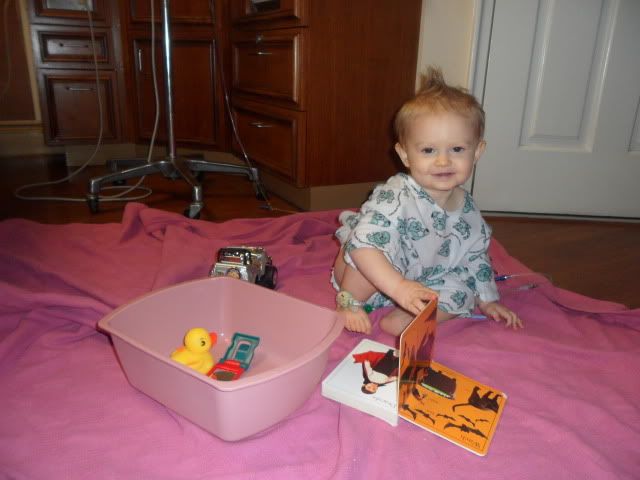 Despite being in the hospital so long they still never figured out what was wrong with Aidan but the mass doses of antibiotics seem to have kicked whatever was going on and we haven't yet had another episode (fingers crosses and knocking on wood and all that jazz). I watch him carefully and get him seen for anything I feel is out of the norm for him. We have specialists in Shreveport and New Orleans and Alexandria and we will just have to go from there. Maybe it was a 7 month long fluke and it's over??? Ya, I don't think so either. Guess time will tell. I hope it's over and done though, I felt so helpless. I hated seeing my sweet boy so exhuaseted and miserable from fever and not feel like what I was doing was helping.