One of the disadvantages of being in the military is that you aren't always around family. Mind you, you make families where ever you live and they are amazing but not always the same thing. Since Matt and I married and moved here he hasn't had the chance to get to meet my extended family or my good girl friends and so on, so before we began traveling the area I love, love, love, there were some introductions to be made. Everyone who could came together for a great BBQ! My girl friend Amanda came whom is one of the ONLY friends from Idaho who had previously met Matt, it's almost like she's family! Tara one of my besties from middle/high school, and the Stephens family. Now THAT is family.
We met the Stephens family when I was very young in Germany when both of our Father's were working there and our entire families clicked and have some how just ended up near one another over the decades. Mike Stephens stepped in and did what he could to be a surrogate Father for us after our Dad died. Wreatha was always just the sweetest example of what a good Mother and Christian is and their three children are like siblings to us. It was very important to me that Matt get to meet this other part of my family. It was so wonderful getting to see them! Stephanie has been my best friend since childhood. We may not talk everyday, every week or every month even, but it's a friendship built on a solid foundation and every time we see one another it's as if no time at all has passed and there we are 8 years old again playing dress up in her room or having sleepovers. Ahhh memories.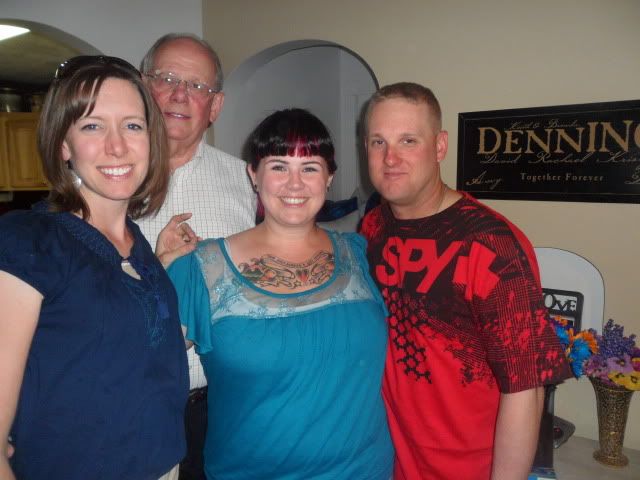 Matt and Danny finally got a chance to really get to know one another since their only meeting was over a year ago when Danny stopped by for what was to be a long weekend on his way to another job and it ended up being less than a full 24 hours as his work schedule got pushed up. They really hit it off and man was that nice for all of us!
That left one last person there that Matt had yet to be "introduced" too. My Daddy. Ya, I'm a total cry baby about it still. Miss my Father everyday. It is always hard for me to go to his grave and not cry and seeing as it had been years since I had been and taken the kids I defiantly cried again. This is as close to meeting my Father as Matt will get here in this life. It meant the world to me to have him go and be there with me.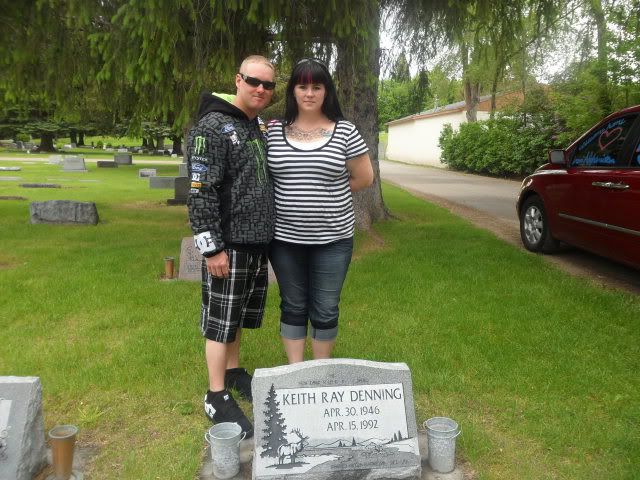 Well then, on a lighter note..lol Jackson Hole! Ohhhhhhhhhhh Jackson, how I love you! We had such a blast there we could have spent a week! We did spend 3 days but it could have been more. That area is just so beautiful, it was so fun to get to share the things I love about this part of the country with my love and the kids!
Now if you are ever headed to Jackson Hole from Idaho Falls, Id, I do suggest stopping for Square Ice cream from the little gas station there in Swan Valley. You can't miss it and cold as all get out or not, it's WORTH it!
Here is our little gang outside the store!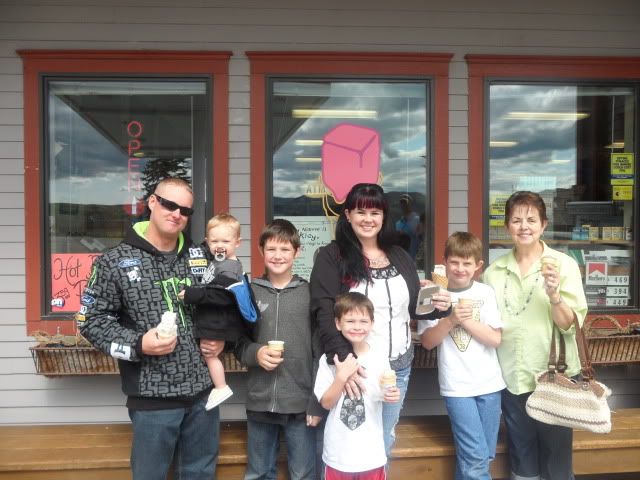 And here is my hunny and I at the scenic overlook along the drive up. It was so pretty out there. My hubby looks rather cute too..lol I love this shot of us.
Now one of the best things we did on vacation, as the boy's will tell you, was the Alpine Slide. Seriously fun! You ride the chair lifts up the mountain and use sleds (it has a brake on it, which I rode like a grandma all the way down! Thanks Mom for watching Aidan since he was too little to go.) down the moutain on a curvy slide.
I do NOT like heights and yet this was a blast and might I say, the views are to die for!
Matt and the boy's at the top getting in line.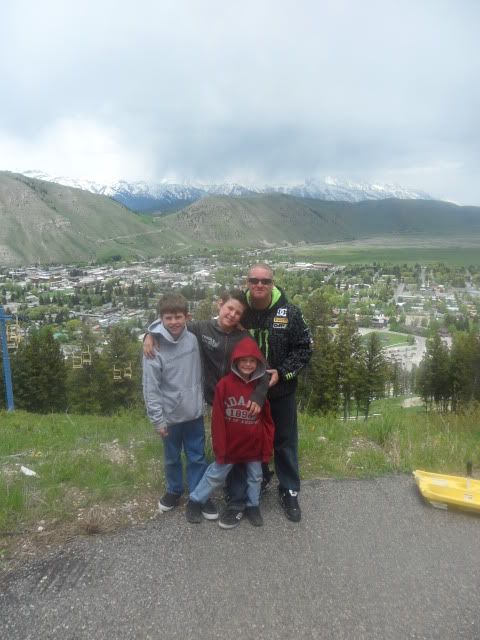 And here are the pictures they take at the top of the mountain and charge tourists (like me) 400 million dollars for, because, well, they are awesome and really captured how fridgid it was up there and the amazing veiws!
Oh and did I forget to mention this was what we did for Father's Day?? Ya AWESOMESAUCE!
Matt and Matty going down. We will NOT be posting the picture of me coming down. It was NOT flattering. At all. Ok, fine. Here it is. Ya. I regret that face too..lol
After the Alpine Slide we got to go around town doing all sorts of fun things. I always love the huge Antler arches leading into the park at town square.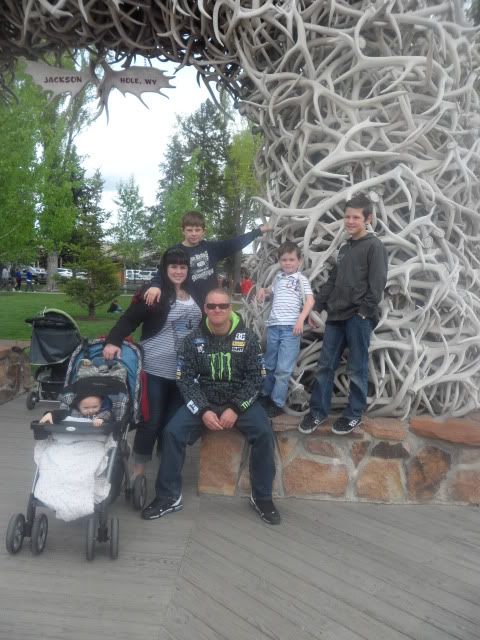 We did the Ripley's Believe It Or Not museum........very cool indeed.
Matty was not happy here, as that buffalo is made of nails and his elbow made contact with it's pointiness only moments before..haha.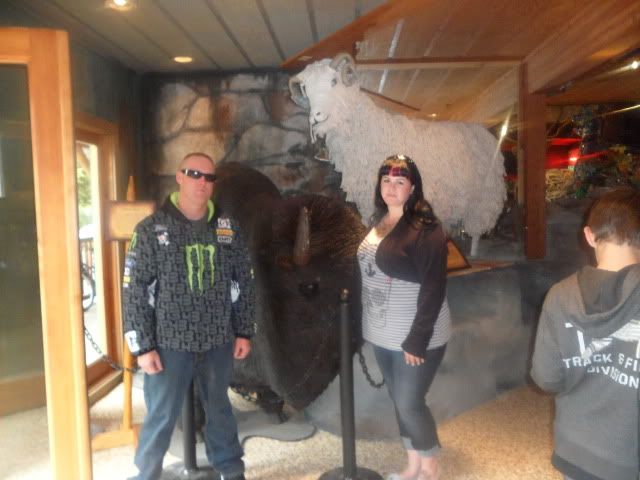 They have these amazing sculptures all around town.
And while there we HAD to stop for Moo's Ice Cream. Its a must!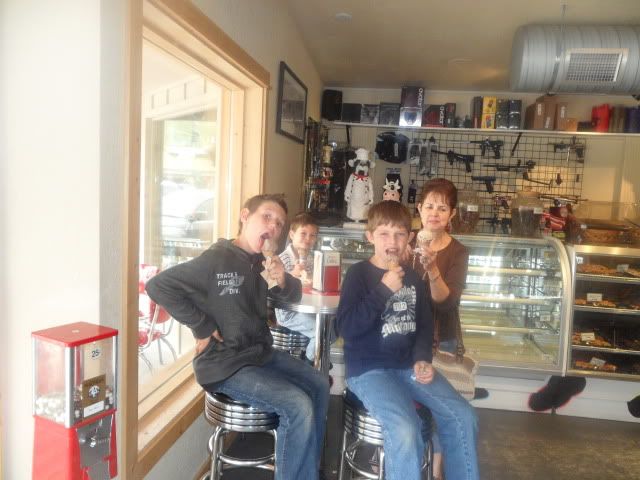 Daddy and lil man at the ice cream parlor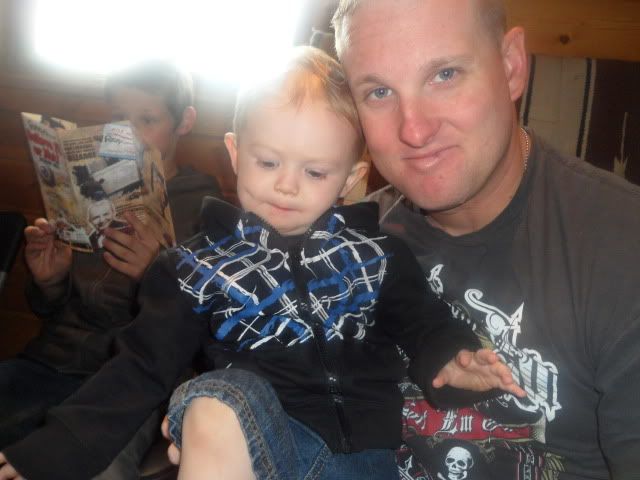 We then did the old stage coach ride which is always cool but even cooler this time as the driver let Michael and Cody and Matthew ride up on top outside of the coach. They were thrilled. I was scared. As I am a helicopter Mom about these things. Good thing Matt soothes the savage beast within me and I was able to still have fun while they were up there. And by the way, doesn't my Mom look so pretty here??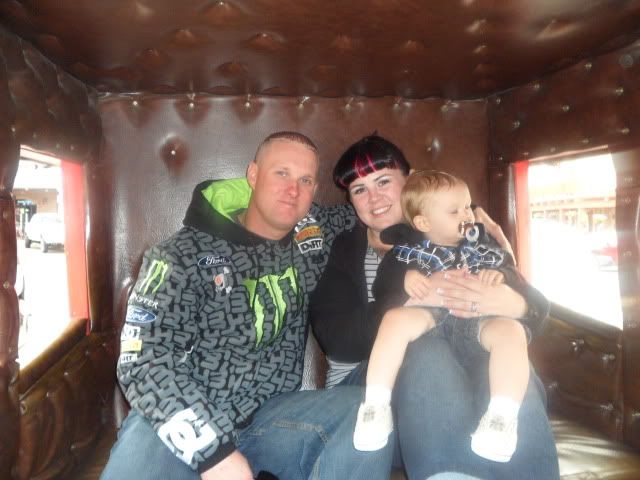 Well I am going to go a head and break this into two posts as I do not have the energy to strong arm you into sitting and looking at anymore pictures in one setting!