Holy Crapa-molie! I better do some marathon blogging to catch up!!! Why??? Some VERY exciting things are coming and I want to make sure that as all of these fantastic things come about, along with the quickly approaching holiday season I had better get back on the ball and update! I mean REALLY! It's been MONTHS!
So The next few posts will be far more PHOTOS and less actual blogging in an attempt to catch up in a rapid fashion!
One of my favorite places (along with Jackson Hole Wy) is Yellowstone Natl. Park. If you have never been I find this to be one of the most awe inspiring places in the world and I have been quiet a few amazing places. I find that you seem closer to the real WESTERN experience one can get. I always sit in awe of the landscape and how it changes from mile to mile, how the bison are so beautiful, gentle and frightening all at once. How the colors of the clay pots and sulphur and so on. How the lake can have natural geysers in it on the edges! How the rivers can be freezing and then inches over there can be a hot spring inside it! The water falls. OHH the water falls. Sigh! Be still my heart! I was SO thrilled to share this with my gorgeous husband on his R&R since this was his 1st trip there. Our older kids have been before but for Aidan and Daddy this was a 1st and it was just so fun seeing the boy's act like it was all brand new again. Then again, I act/feel like a child all over again each time! Highly suggest going, also alone, no tour guide, a map and stopping at each little turn off! We took 3 days! It was AMAZING! Also just as a side note, Pierre's Playhouse in the town of West Yellowstone...AWESOME! We went and saw "Joesph and the Amazing Technicolor Dream Coat" the spoof version and gracious it was funny (Matt is NOT a theater buff but had a BLAST! I'm wearing him down bit by bit....mmmmwwhahahahahaha!).
Here we are at Bear World. If you are headed to Yellowstone via the Idaho Falls, Id area Bear World is on the way and should be seen! It's a drive through bear park (also has moose and albino elk! So cool! ) They even have a mini amusement park and you can feed baby bears! YES! You read that correctly. BABY BEARS! Ohhhhh so cute. Now...that isn't exactly cheap, and we didn't get the chance to do that (as R&R was not cheap) but we would love too next time. The kids were bummed but the petting zoo was pretty cool too. Where else will you pet a deer/fawn?
The baby bears are just too cute not to share!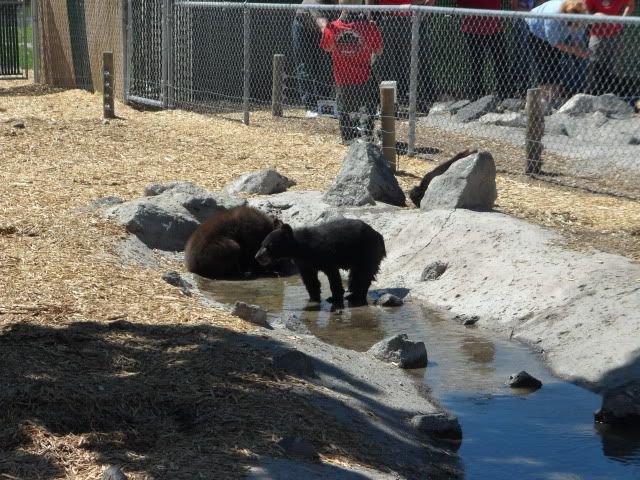 Cody literally had a fawn licking his hand...it was so adorable seeing his face so gentle with the baby and giggleing.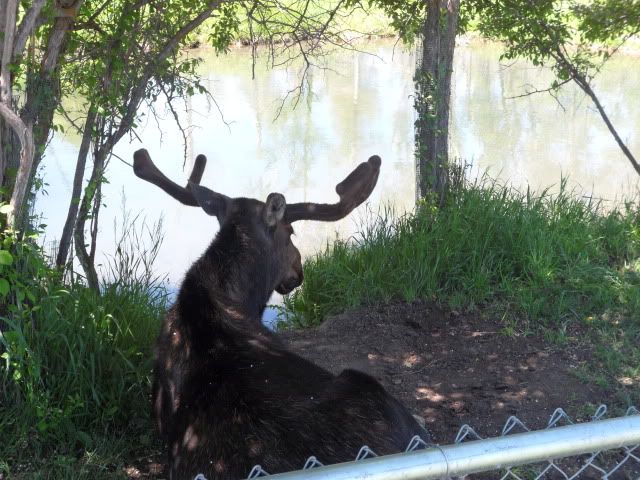 RAWR!!!! HAHAHA.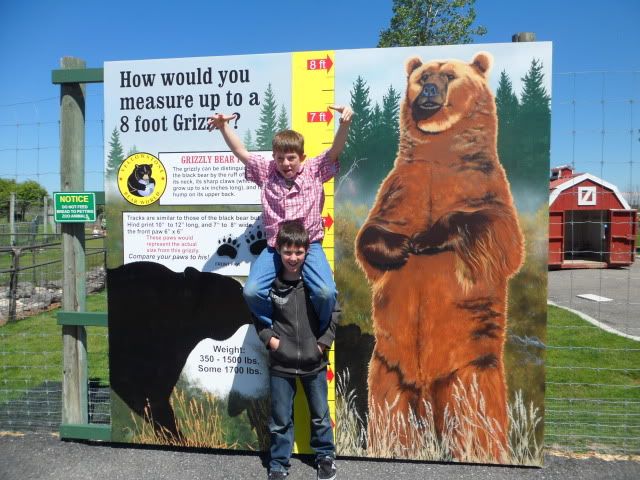 Here the three older boys are in Yellowstone.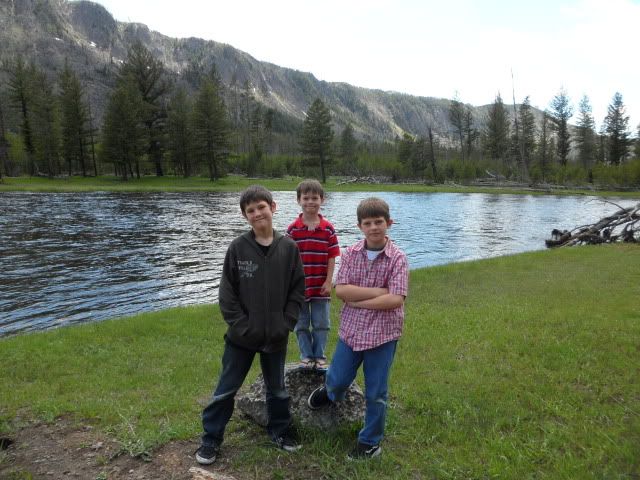 Matt, Aidan and I in Yellowstone
It was so wonderful seeing Matt home from Afghanistan even if just for a while, reconnecting with his baby boy. Sigh. I am not a religious person. I am a very spiritual one and being here with my family was as close to God as it comes for me. It was heaven for us.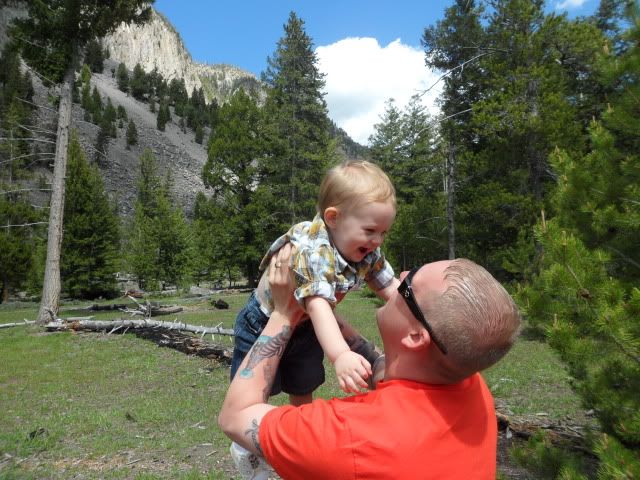 Ohhh the Bison. My favorite thing to see in the park.
We took this video the last day we were in the park literally as we were leaving, the baby buffalo were sooooooo cute! If you listen you can hear the adult bison giving warnings not to get too close. Unfortunatly we were all at a stand still and had no choice..lol we had to sit there and wait. It was so neat! They were at one point so close I could have reached out and pet one. I did not. THAT would have been supremly stupid! lol
My lovely husband has a habit of snapping photo's of me walking and doing odd things..lol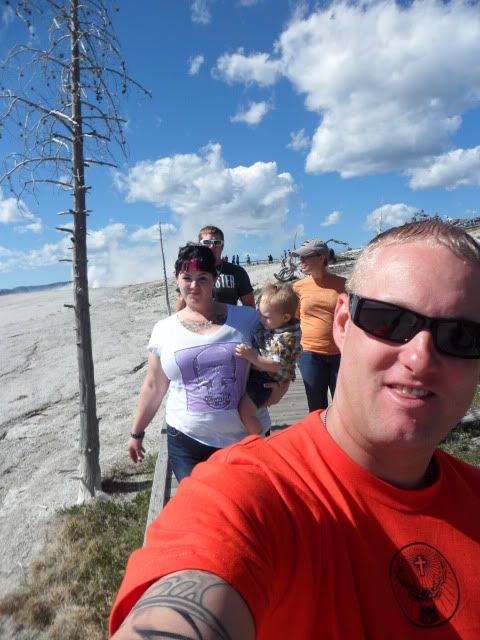 Sigh, how I love this man and these boys and shareing these things with them!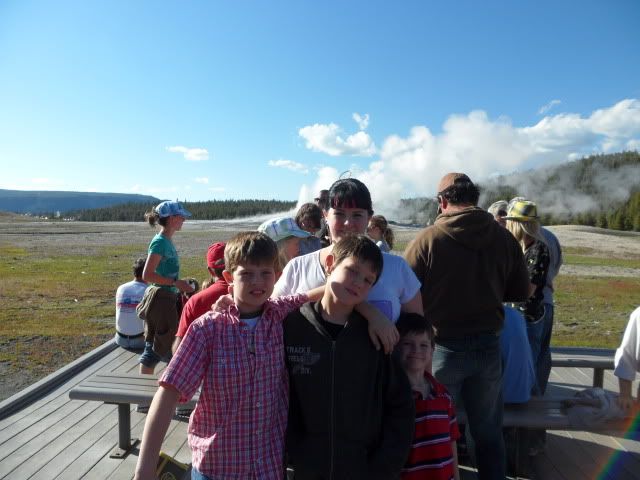 Look Ma, I'm holding a BEEFALO!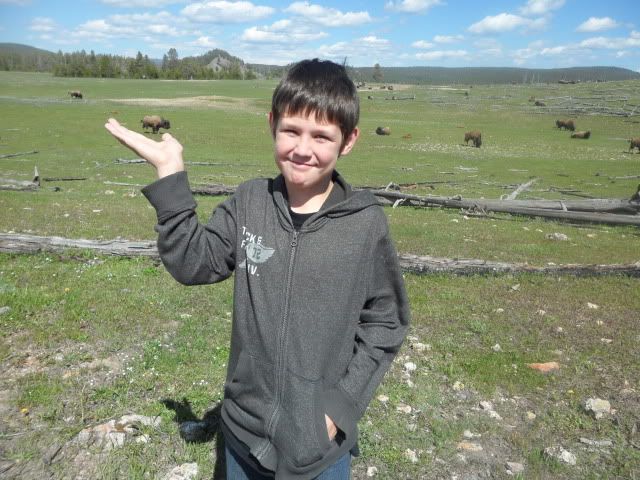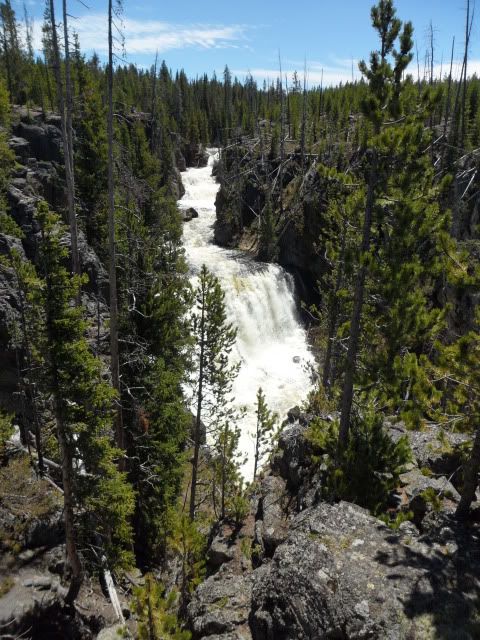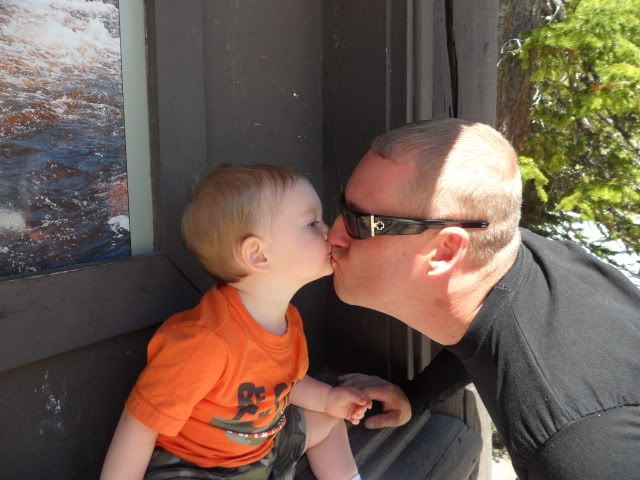 this is literally right next to....
this...
Matt and Cody at Upper Falls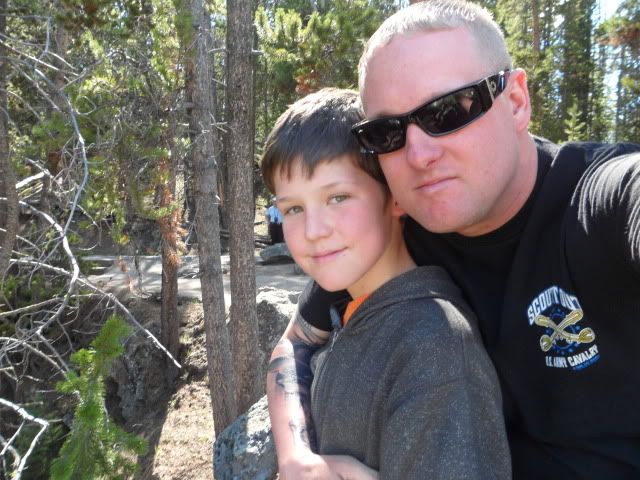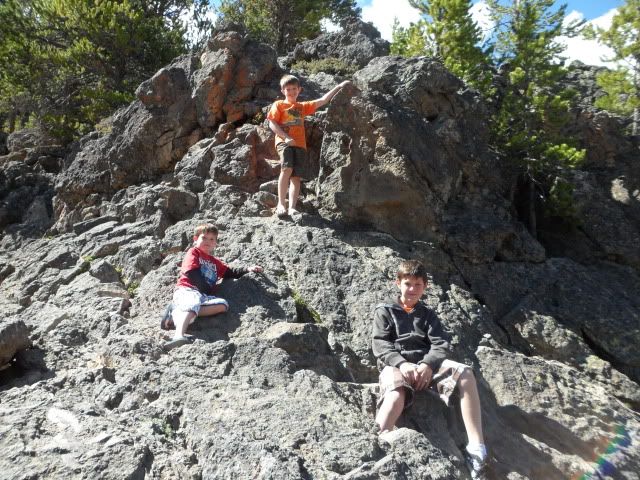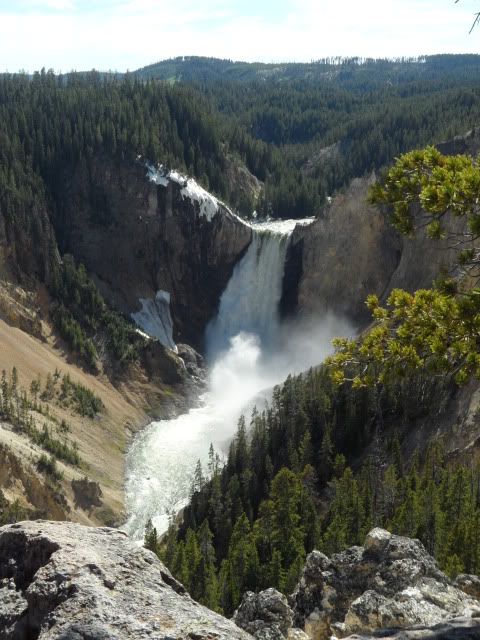 I have to state for the record....this Soldier...is HAWT!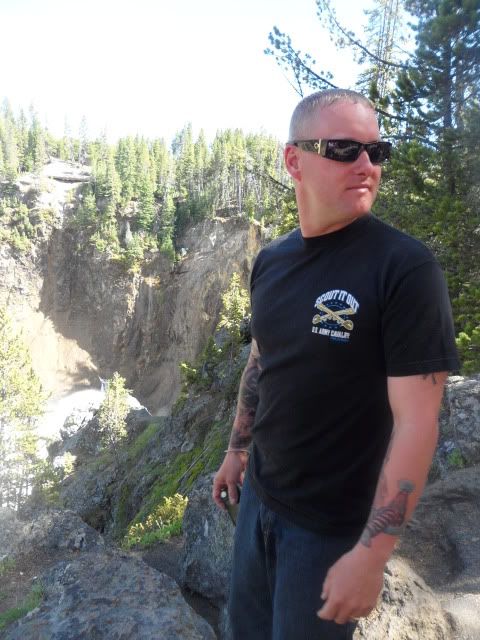 Matty's road trip entertainment.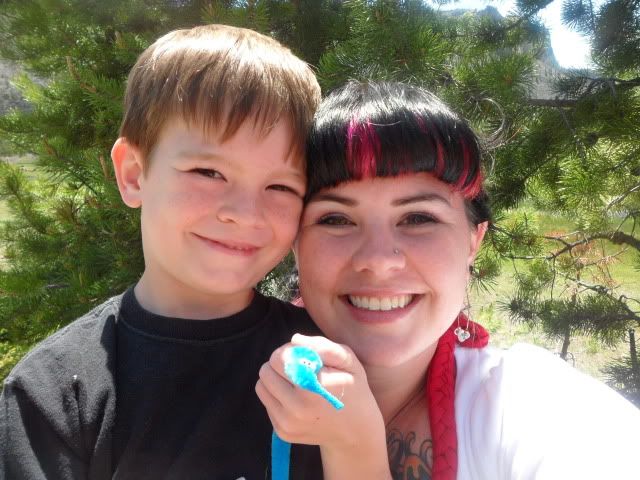 This is at the top of Devil's Staircase. Yes. It is the Devil! EVIL, VILE, HORRIFIC amount of stairs.. THANK HEAVENS I had Aidan strapped to me....and even running up to three miles about 3 times a week...did NOT prepare me for that at that elevation. I was very annoyed and could only laugh when we drove off and saw an upper parking lot around the back..lol DAMNIT! Could have just parked and gotten the view..lol guess it makes the experience better..lol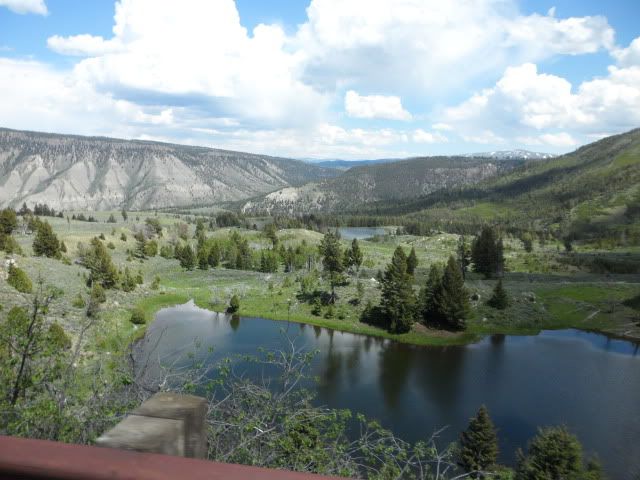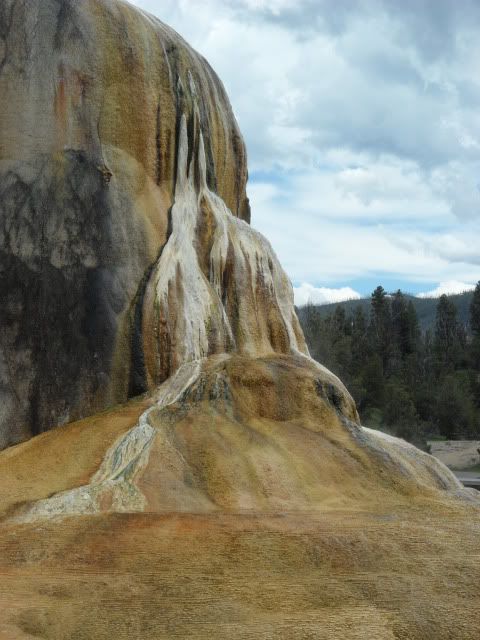 I know I know!! I should have added all of this in 4 posts and that was the original plan....ya. I'm ever so organized. Or not. We love Yellowstone. The end!