While on R&R Matt was able to schedule two sessions with Christian Buckingham. One of the BEST tattoo artists I've ever come across in real life. He really has such talent! Matt was a trooper and sat through two days worth of sessions and didn't really even need the breaks. Christian was amazing and gave us one AWESOME deal on the tattoos because he was feeling so patriotic and once again not nessecary but just so, so kind! One arm now has an amazing Cavalry inspired skull wearing a stetson ( cavalry hat) and helicoptors and the other...........well..the other the most awe inspireing portrait of Aidan! Aidan being Matt's 1st born is now engraved on his arm so he may "take my little man with me where ever I go" (just as he was headed back to Afghanistan. There was no one who could capture this portrait the way Christian did! There is every detail from the cupcake wrapper to the poofs on the hat and the lettering on his shirt, his eyelashes and finger nails and blue frosting! Here is the original picture (taken by Amy Delia Smith of Seraphino's Photography out of De Ridder, La...yes..again.. she is flipping AMAZING)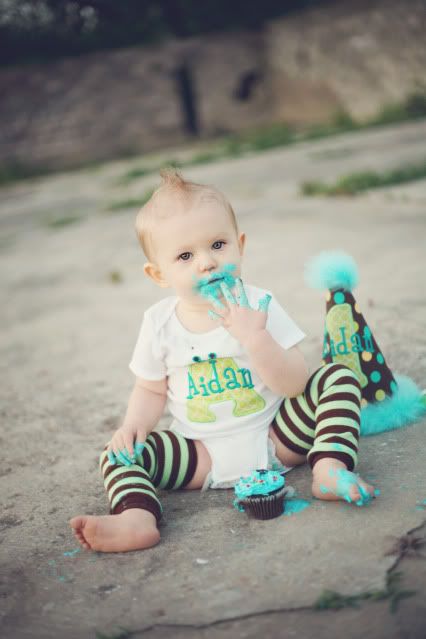 And this is the finished product!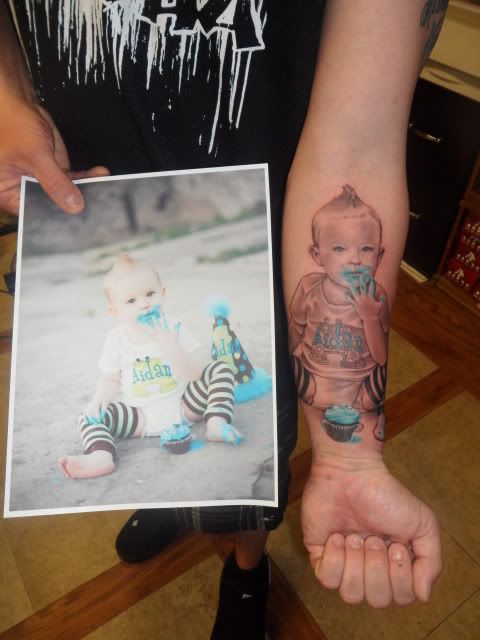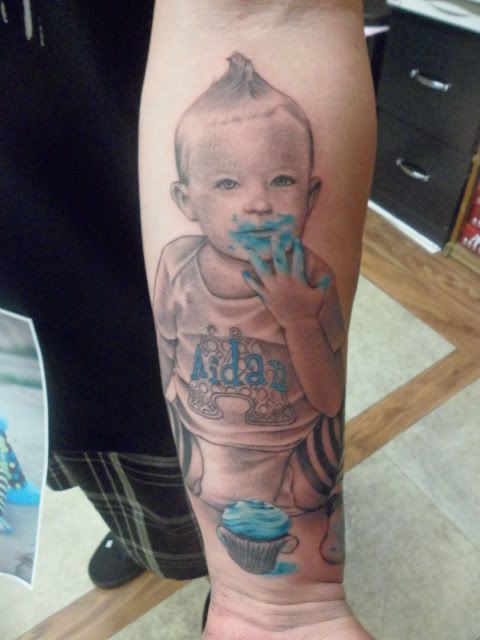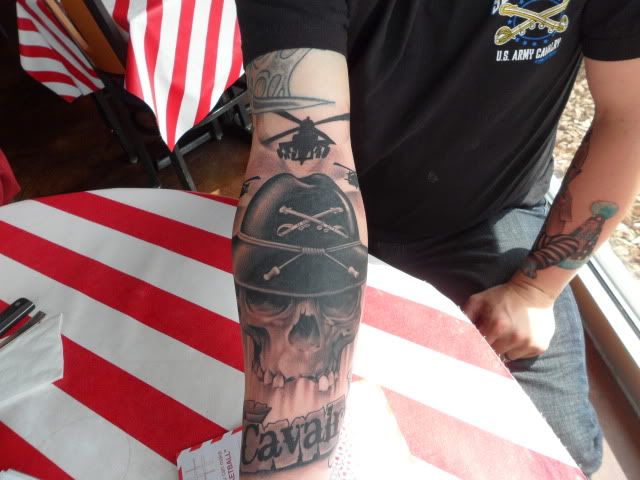 Amy Smith from Seraphino's Photography has an amazing blog. When Matt got the portrait done I sent her a photo of it just to show her how impactful we find he work. Letting her knew that a photo she took was so great it translated so well on skin. She was very flattered and wrote a beautiful blog post about it here. LOVE,LOVE, LOVE this woman and esp this blog post. So well written and so very sweet!
http://www.seraphinos.com/http:/www.seraphinos.com/freedom-its-cost/
If having a hard time following the link google Seraphino's photography, post title "The Price of Freedom". Just amazing.
Thank you Christian and thank you Amy!