Here I am yet again, perpetually behind and playing catch up. I have wanted to catch up on photo's of Matt and it seems I just keep waiting to get " a few more pictures" to post at one time and then weeks pass getting one or two and then TADA blamo he sends me a million...lol So here we go "catch up from Afghanistan".
In early December our guys had an Army Journalist following them around and he just so happened to get pictures of MY hubby! YAY. Believe me every picture I get is GOLD! What was the iceing on this little cake was that in local Fort Polk Gaurdian and Leesville Daily Leader newspapers an article ran that had one of the pictures the journalist had taken of Matt and a quote. Oh happy day! The article does go on for quite a bit but here is the cut and pasted portion that had Matt's quote. And this picture is the one that was used in the article with the subtitle under the picture as it was in the newspaper. (Here is the link to the actual full article.
http://www.leesvilledailyleader.com/military/x1499819754/Route-clearance-soldiers-help-to-keep-Afghan-roads-safe-build-relationships
)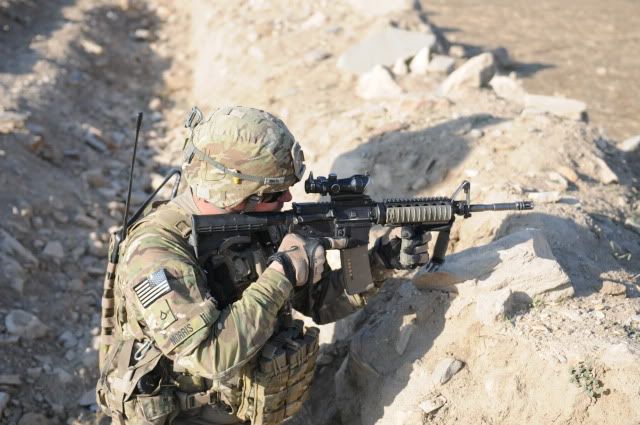 WARDAK PROVINCE, Afghanistan - U.S. Army Pfc. Matthew Morris, a cavalry scout from Orlando, Fla., assigned to 3rd Squadron, 89th Cavalry Regiment's Task Force Slugger, provides security during a route-reconnaissance mission in the Maiden Shahr District of Wardak Province Nov. 18.
Route-clearance soldiers help to keep Afghan roads safe, build relationships
Afghanistan — For Afghan civilians, Afghan National Security Forces and International Security Assistance Force personnel traveling throughout Afghanistan, clearing routes of improvised explosive devices is necessary to keep everyone safe and alive.
Soldiers assigned to Task Force Slugger's "Apache" Troop, 3rd Squadron, 89th Cavalry Regiment, conducted route clearance and route
reconnaissance in the Maiden Shahr and Nerkh districts of Wardak Province Nov. 18. Nothing was unique about that day's mission; these
soldiers clear Afghan roads of insurgent-emplaced IEDs day in and day out.
"(For) overall mission success, I believe route clearance is very important. If we weren't out there doing it every day, there would obviously be more IED attacks," said U.S. Army Pfc. Matthew Morris, a cavalry scout from Orlando, Fla., assigned to Apache Troop. "(Insurgents) would see that we are not out there checking that stuff, so they could hit us anytime. It keeps us soldiers safe, keeps our convoys safe and we get our job done. It's extremely necessary."
During the mission, Apache soldiers searched the routes for suspicious items that might be cause for concern. The soldiers, who spend hours in full combat gear while looking for anything suspicious, are ready and confident in their abilities.
The kids of course ate this up! All 3 older boys could be seen carrying a copy around with them, to school, football and friends homes to show off how thier "Dad is famous now, he was in the newspaper....two of the even!!" He he. Sigh, oh how my kids make me smile.
Here are a few other pictures that wonderful journalist got of my man! I just drooled over these when I got them (and for weeks after..lol).
This one is my favorite. He's actualy smileing and this is the desktop picture on my laptop. Aidan say's "Da Da" to it all the time.....ya....melt much!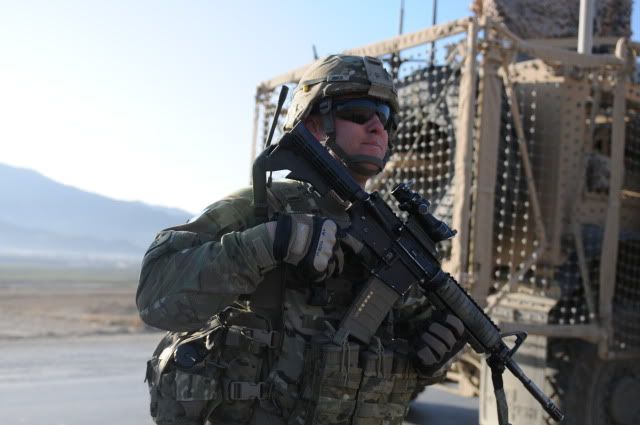 ok so now the picture quality drops....ohh drasticaly as we are back to the good old digital camera in his pocket. This picture cracks me up. This one is of Matt on the plane ride over, he looks like a barrel of sunshine. You know you want to fly with this fella next to you for 16 hours. BWWHAHAHA!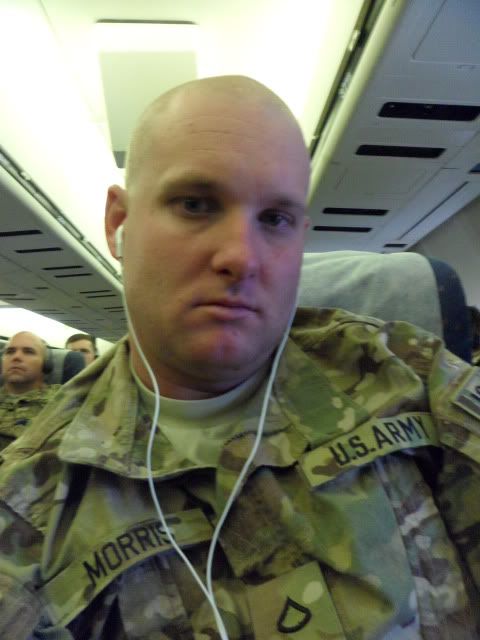 Our guys napping in the airport. Uber comfy!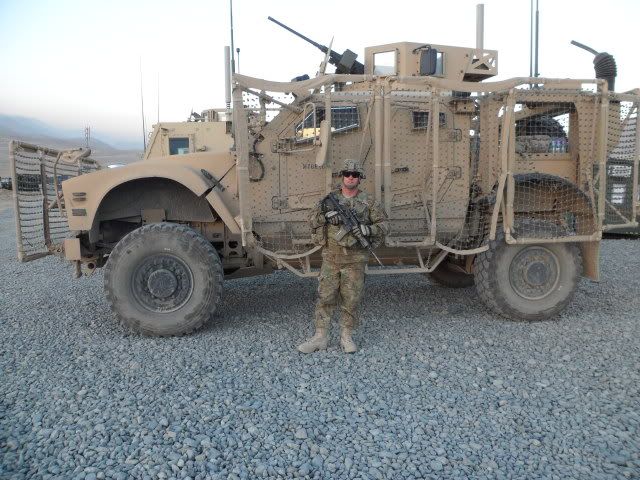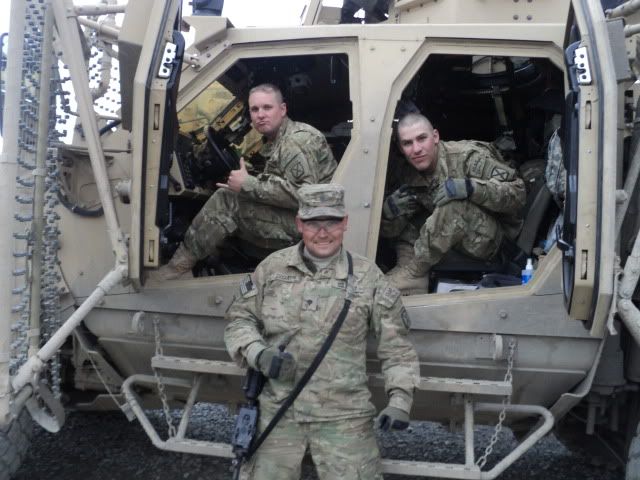 Well Hey there good lookin, who you lookin at!
Did I say yum yet? YUMMO~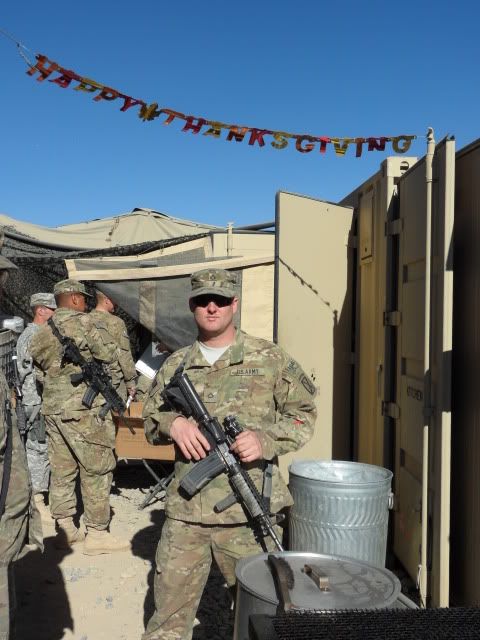 Thanksgiving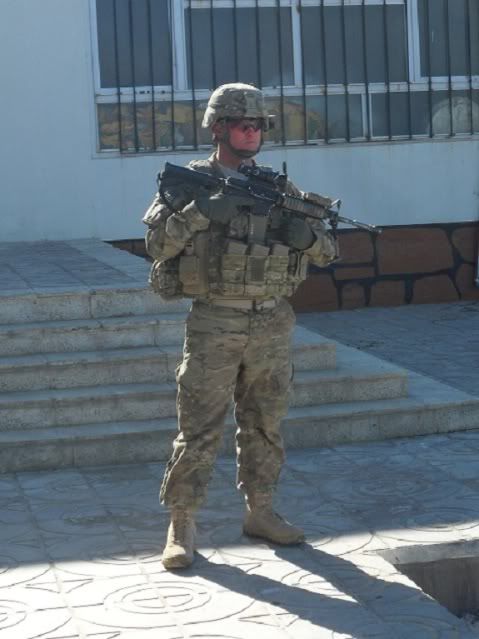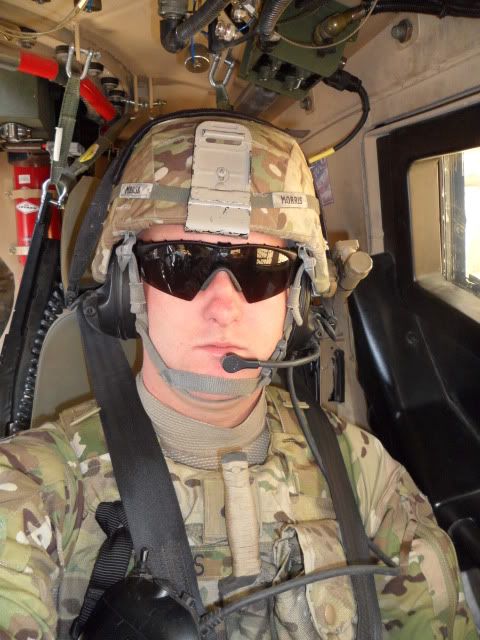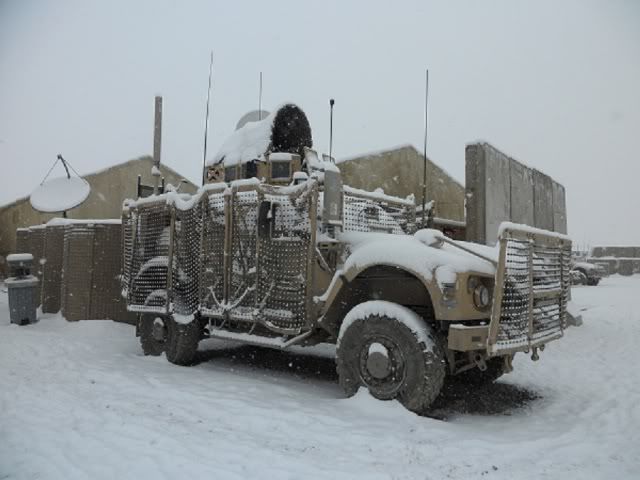 One of the reasons I've been waiting to blog about Matt lately is that I was waiting and waiting and waiting for.......a box! A box that had gifts!!!
OHHHHHH...AHHHHHHH! Pretty sparkly things for me??? AWW Yes, even in another country he spoils me! For Valentines he bought me an Ipod Touch, a brand new Camera, and all sorts of sweet lovey things and then this month mailed me a 2 keret Black Diamond (it's not set or polished but ooooooooo it's so pretty and sparkly in person. The cell phone camera does not do it justice. The ring is just to give it something to go off of)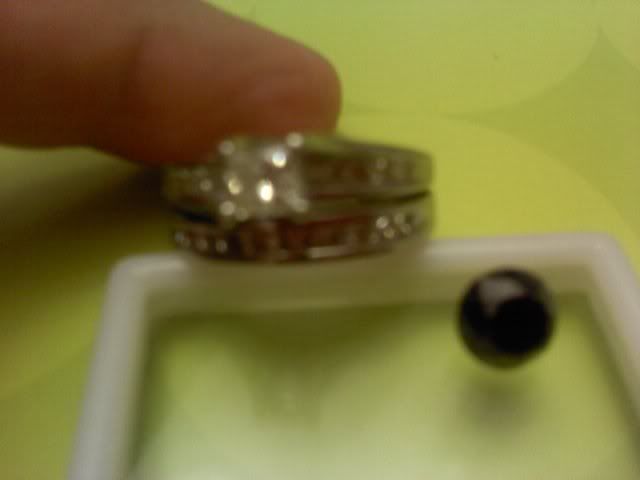 And a bea-U-ti-ful Sapphire necklace.
Yes, I am the luckiest woman alive and NO you can't have him to train your husband. Totaly bragging.....ya, he's rather fantastic!
But the best gift in that box? A dvd. A video of him, hearing his voice, seeing him smile (even if he was getting pummeled) just made my day! WEEK, & MONTH!
Now as you are watching this you will most definatly need the sound turned up, and to finish the whole thing. It's worth it..lol if you are wondering why they are punching the shit out of him....well...they have to make sure the new rank sticks now don't they? Especial 1Sgt. He REALLY makes sure...hehe. WOW he's a big feller isn't he? LOL His wife Jessica and I have become cohorts and buddies and we watched this over and over giggleing and cringeing all at the same time. Ahhhhh to be Army and have such traditions. Good thing Matt and I love all these retarded traditions.....Enjoy! He is now Spc. Morris! YAY
Matt is doing well, tired and working hard and missing being home like crazy but proud to be doing what he feels called to do! We'll keep you up to speed on all things Morris as we can!
Matt's new view.