So first and foremost, I have to apologize to the 4 people who actually read this blog..lol I know my Mom, my Mother in law, my Husband and my Cousin were all terribly neglected by me not blogging about all the things I thoroughly inundate you with on facebook, on my blog..HA! I plead for forgiveness! I blame the camera!
As previously blogged about...Murphey (and her laws) are a bitch! Since Matt left illness has plagued this house! I have often had times since November where I seriously believed that friends/the CDC would at any moment quarantine this house, board us up and pull a move straight out of E. T. with plastic tunnels and hazmat suits! Ok so maybe not THAT severe but bless muh soul I truly had visions like that!
Aidan has a case of mystery flu/fever/ear infections galore. Poor little monkey had multiple ER/Dr visits, I do believe around 8 regular office visits, and 3 E.R. OOOOOHHH the fun! Pretty much had every form of normal illness I could diagnose (because I am totaly a doctor and should diagnose your children as well!) and then some, we dealt with inept, decrepit pyshician who long ago should have been put out to pasture (this is based not only apon his bedside manner, and skill level, but the massive amounts of Peter Cottontail esq. ear fur he was rocking) and young buck doctors who would rather toss another antibiotic at him, pat me on the head like a brand new first time Mommy and send me home like the hyperactive Mother I surely am. We seem to have hit the tail end of all this or are in a lovely little lull, but either way, I am happy to say things have "simma'd down" for now.
During the mystery illness phase we also had some really fun stuff happen (which the 4 of you blog readers likely already know about, since I have no delusions of grandeur....ok normally I do, just not tonight..lol) and this is where the catching up get's very......picture heavy. 1st off.......Thanksgiving......
SUCKKEEEEEEDDDD.........suckatular, suckarific, lame-a-roo all over. Not to say that the company I had around the actual meal time wasn't lovely....it was (thank you so much Nicole for letting Aidan and I poach your family and food for the day!!) This was the 1st time in over a decade that I have not cooked Thanksgiving dinner. Talk about weird, but.....helpful, seeing as this is when Aidan and I got the sickies. I wasn't up for cooking. This was Jon's holiday, leaving me not only missing my hubby (missed you so much Lover!) but my 3 older bebe's. HATE SHARING! (Chanting, it's best for the kids, it's best for the kids----oooohhhhmmmmmm). Alas, alone we were, and Nicole's fantastic family had us along for some fun. There was a trip to Natichtoches which we all know I love, love, love at all times of the year but Christmas time is soooo adorable also the perfect opportunity to dress Aidan in a Santa outfit as every great Mother should do!
What a doll baby! This was also right around when he turned 9 months old! He started eating table foods for the first time on Thanksgiving and went to town! Eppp....weaning begins! He went to town on pumpkin bread, pumpkin cheesecake, mashed potatoes and pickles of all things..lol Loves pickles. What an odd duck!
I was hoping that the way Thanksgiving holiday went off, wasn't a precursor to the remainder of the holiday season. Thankfully my big sister Amy came for Christmas~!!! Can we say yippee? Yep! Now Amy and I haven't been close over the last few years, just between distance, work, kids and life in general we (both of us) have sort of just gotten by on the obligatory "It's your birthdayyyyyy I love you"/"Merry Christmas" phone calls. This has defiantly take our relationship in leaps and bounds back to being actual sisters. Goofy inside jokes/ late night texting sisters. LOVE it!
Since Amy's sons Dave and Bob were coming for the holiday but at intermittent intervals we had a lot of travel back and forth to New Orleans, and why not take advantage of those (long ass, hate it) drives? Amy funded my 1st ever trip to New Orleans. AWESOME city
.......I will not, however, return without male protection in the way of a Husband, large Brother or hired body guard. The amount of homeless and people loitering menacingly in doorways and alleys was a tad foreboding. Thus why we toured the graveyards (which were AMAZING!!! Love me some history) right behind two paid tour guided groups (becuase we are far too cheap to pay someone to tell us things..lol), as to avoid being mugged. Seeing as the graveyards are smack i the middle of the ghetto.....there was literally a used old fire hose on the ground outside it with a random woman's shoe right outside the entrance.
The city had places that were so beautiful and so full of history and then one block down an area where windows were rolled up, doors locked, and eyes straight ahead. lol. All in all a wonderful, if not slightly scary/crowded trip! I would love to go back with my Hubby though, and do all the grown up things you really don't get to do with 6 kids in tow.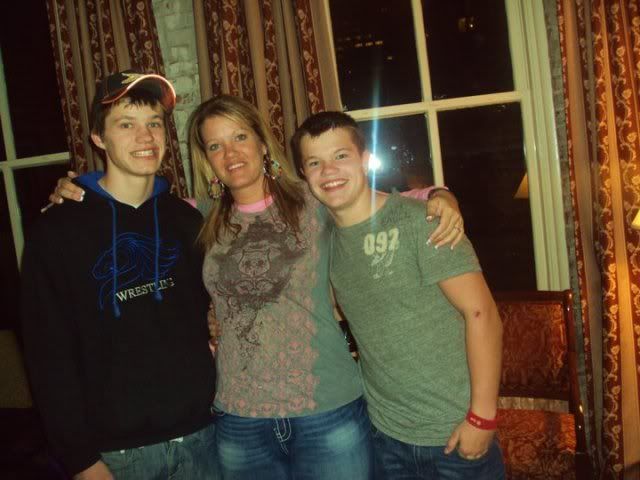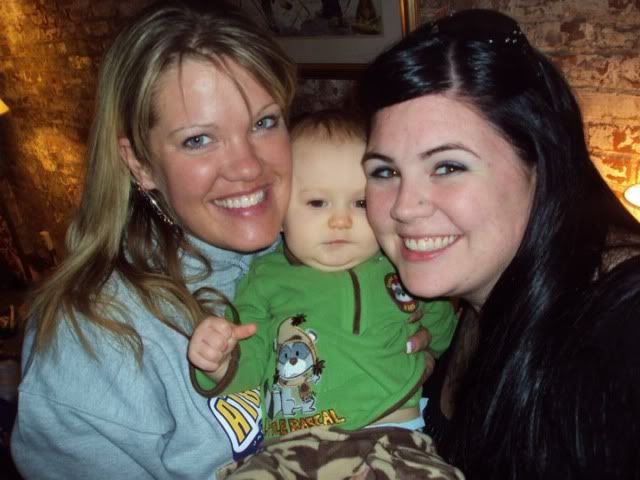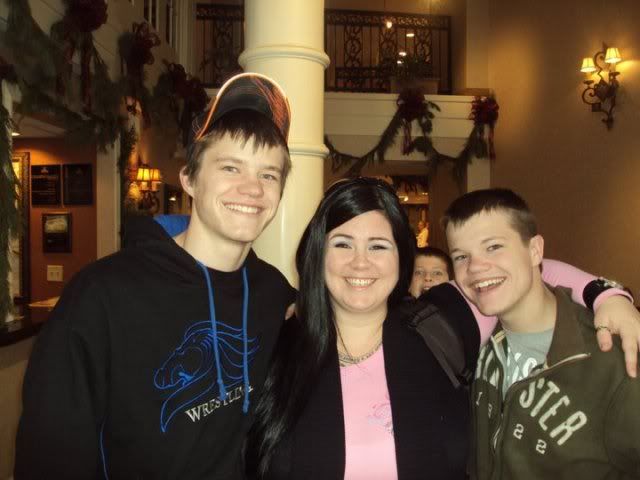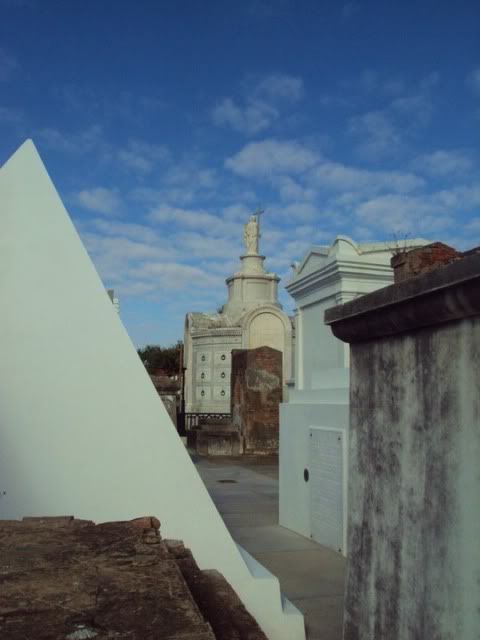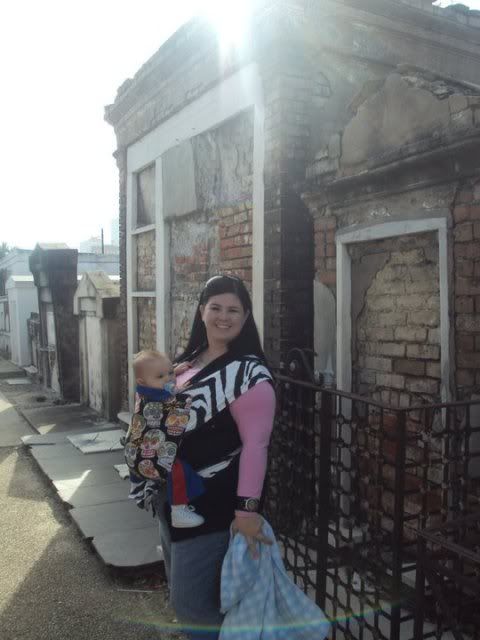 Below is a picture of Aidan talking to Daddy on the phone. Matt happened to call as we were walking through the graveyard. Aidan was talking up a storm behind that pacifier. I love moments like this! Thank you modern technology!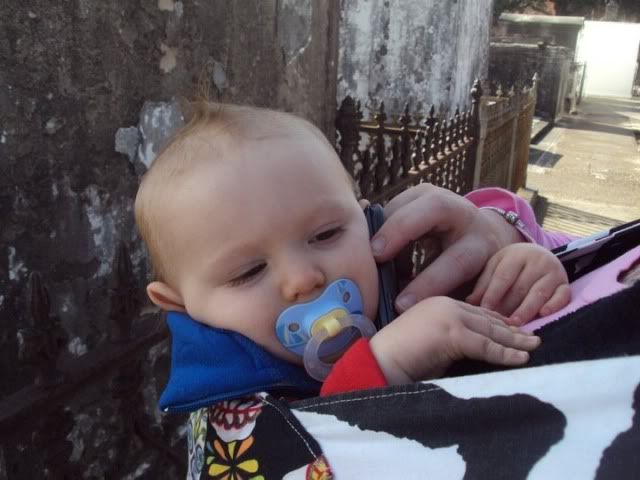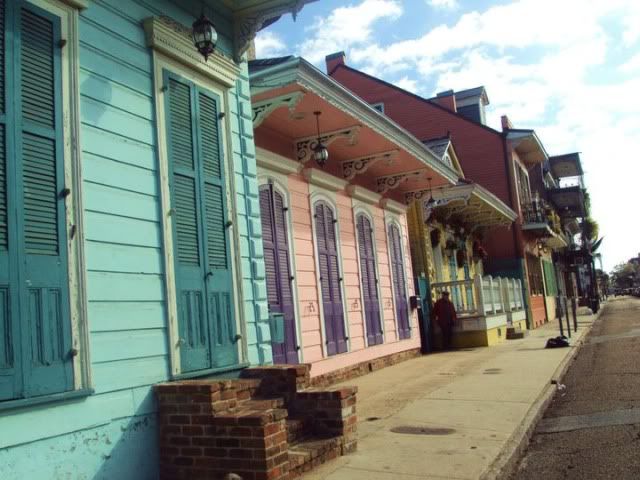 The 9th Ward was defiantly a sobering 30 minutes in the car. I was really impressed with all of the children, who sat quietly and took it all in.
Maybe we went on an off day, or perhaps in December all the good street performer's are off wearing Santa suits, but the entertainers there could learn a thing or two from those in San Francisco! This fella, literally just stood there. Oh well, the kids really thought he was cool.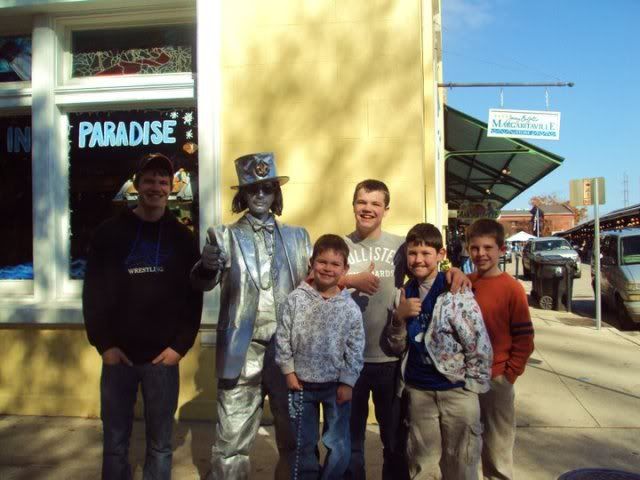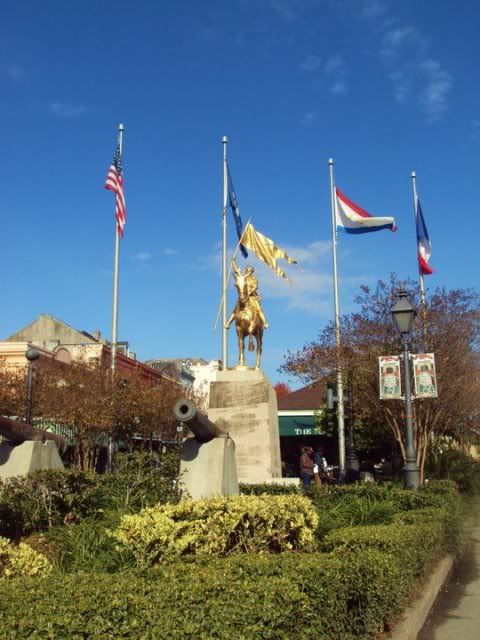 This is what I meant by "crowded" trip. Ya, 6 kids squashed in the mini van on a 4+ hour drive. AWESOME!
Matty thought that cousin Bob was the greatest thing since sliced bread (yes I totally just used that oldie but goodie) they were inseparable...rather Matty was like a fungus on poor Bob. He He, Bob did all he could to resist the urge to spatula Matty off his hip for the few days he spent at my house.
Well, it seems I have lost my motivation to blog for the rest of the trip due to the hype from my evil Jillian Michael's work out finally wearing off. I will blog again another day, likely tomorrow,seeing as I can not stand knowing I blogged half a trip and am leaving the remainder of my billion pictures not blogged about..lol Coming soon.....The remainder of this trip(Natchitoches and the plantations), Christmas, update on Matt, Social studies fair, some crafting (because you know how I like to let you all stroke my ego....he's my little pet..you love him..he's furry) and all sorts of other randomness I am most certainly forgetting about right now.