We all wanted/needed Daddy home. He's the glue, the fun, the laughter in this household and while the three older boys are old enough to wrap thier brains around "deployment" the little guy isn't. I forgot to blog this, but it has to go in here. This photo is a huge tear jerker to me, even now, months after Matt's home. A year ago before Matt deployed, my friend, Amy, the amazing photographer took the family photo's we posted, my favorite being the one of Matt walking away, carrying his duffle bag. We had a small version of this in a frame on the end table in the living room while Matt was gone.
During the Parish Fair, Amy had a booth up for her amazing photography business where she features some of her work, in very large sizes. like giant peices of art. The photo of Matt walking away was one of them. When we went to the fair to see her booth, I raised Aidan up to see the photo's and this is what happened.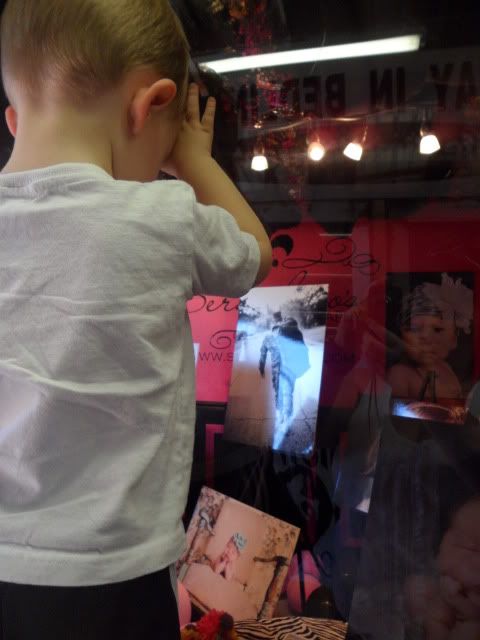 He saw Daddy and started sobbing, banged his head and hands on the glass and cried out "Daddy". I thought my heart would break! The older boys were in tears, not knowing how to console Aidan, and I of course had to pretend to be strong and tell them how soon it would be, before Matt came home. Breaks your heart huh!!!