This blog post has been a long time coming, however, since he came home we've been so busy, and I for one have been soaking up every second with him that I could, totally ignoring the house and the blog!
I don't think you can really explain what it's like, to someone who hasn't experienced a Soldier's homecoming for themselves. It really is one of those experiences that sets your soul on fire.
Matt deployed in October of 2010 and fortunately got back in October of 2011. I've done longer deployments with my ex (which is why I say fortunately). From the moment he left back for Afghanistan from R&R, it's as though you can't breath again. Like an elephant sitting on your chest. A worry. Less worry of "How will I do this with 4 kids, alone" (because you don't have a choice, put on those big girl bloomers and deal) and more of a, "Please Dear Lord send him home to me safely" sort of a worry. Him being Cav didn't exactly set my mind at ease, but send him back we did, and we waited, very impatiently, for his homecoming! I have to say, I was rather a petulant child when it came to my friends reunions with their Soldier's. Matt was to come in a little later than my friends spouses and so I went to their Reunion to take pictures for them. This is my best friend Allysha reuniting with her husband Evan.
Which I have to say, was HARD! lol I know it shouldn't be, and believe me I was thrilled for them, but man a live it was hard to sit there seeing them cry in the arms of their Soldier, safe and sound, while I knew I still had a week or so to wait. A week? Was I really making a big deal over a week? Yes, yes I was. LOL. A day literally feels like months, I swear it does, when you are that close, time all but stops! I wanted to stomp my feet an say "my turn, my turn, my turn!", well, maybe not THAT bad, but it was bitter sweet for me for sure!
My friend Sarah works for the local post newspaper and was at the airport when this group of our Soldiers came home and caught this photo for me and Matt getting off the plane!
Which she took while I was sitting in the gym 2 hours early waiting for our turn!
This time with Allysha there with me (and my friend Molly) to help with the baby and take pictures!
Our time came though! Finally! I have great friends, and one took our older three boys for the night, so I could go to the homecoming ceremony and then go surprise them at school. This picture is the moment we saw them come marching into the gym!
You know how sometimes things just fall into place? For us this usually does NOT happen...lol if you remember the murphey's law filled day we went to get him from the airport for R&R. Nothing but blunders! Well this time it happened!!! It was all perfectly in place! Usually your hubby is at the back of the formation, hidden behind some 8 ft (possible slight exaggeration) giant of a man, where you can't see him and sit impatiently craning your neck to see if you can finally catch a glimpse of him. Unless your spouse it super short or super tall it's hard to pick them out. I tell ya what...they blend together!
Your heart is pounding so hard you are sure the thudding is interrupting General so and so during his speech. This time....where was Matt?? Right in front of me. LITERALLY! I am talking about 10 feet! I could have tackled him were it not for all the ceremony we had to stand through.
Even though he was supposed to hold a straight face, I loved, loved, loved that he couldn't. A few times I could see him sneak a peek at me and crack just the tiniest grin. My heart all but melted. The tears started, my knees almost buckled and Aidan wanted down to run to Daddy. I was actually shaking!
Any second now, any second now, is all you can think. Hush General so and so! You know what he had to say was brief, it was important, but you can't hear him! All you hear is your pulse pounding in your ears and your mind racing.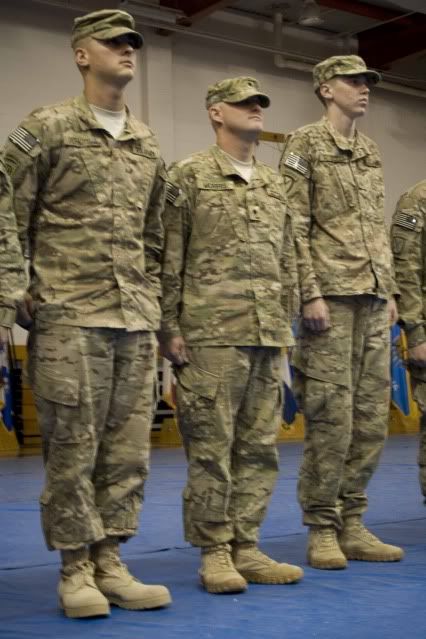 ........and then..........."You're dismissed!" the two words that make you all but implode! All mayhem breaks loose and everyone runs for thier Soldier, and I do mean runs! Once those arms wrap around you, and your lips touch, it's as though that weight were never there, the best high in the world, you are in euphoria! Nothing could go wrong now, you are all but invincible! How could you ever worried he wouldn't be safe? How did it ever feel like a year, now it only feels like few months.....God he looks good, ohhhh how he smells like an airplane and 2 weeks of travel but LORD how good does that man smell next to you. My brain didn't stop running until we kissed and then..............silence. Peace. My brain hushed for a few moments and THAT is bliss! He's my peace, and he's back!!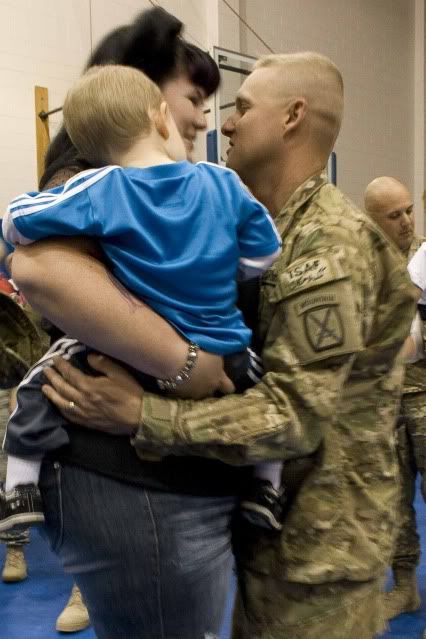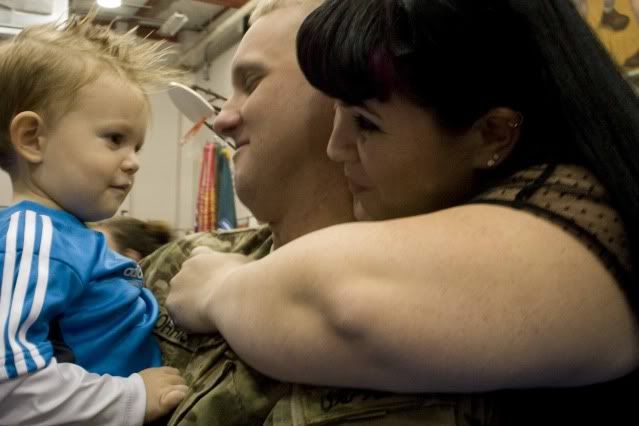 Once again, there is that worry that the little ones might not remember Daddy but with us, there was nothing to worry about. I mean look at at that smile!
Now it was time to gather up Matt's multitude of bags and head home. You imagine these reunions to be something from a movie, running smoothly, romantic kisses, happy children..lol when in reality you are stumbling around in 4 inch wedges,helping gather tons of bags, a whiney child as it is bedtime, standing in fire ant piles unbeknownst to you as your wedge clad feet are now numb from all the standing around and baggage lugging, which now means you are squealing in a most unattractive manner attempting to take off the worlds most secure shoes off your fire ant invaded toes, in the dark..lol this did not add to the "hollywood" scene I had in my mind...lol. No worries folks, my feet were fine, the evening was salavged..lol
The next morning, this was what I woke too..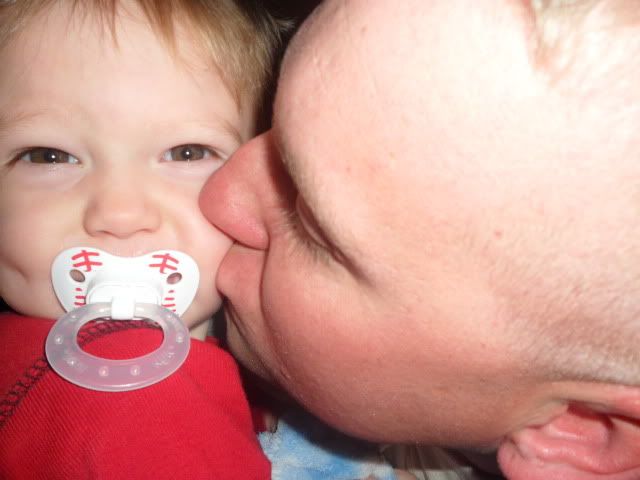 Father and son in bed, happy. Sigh. Matt had to run down the stairs for 10 seconds and in the time it took Matt to get up from the bed, jog down the stairs and head back up, Aidan ran from the bed to the stairs and cried! He was freaking out! Ahhh, seperation anxiety, what fun.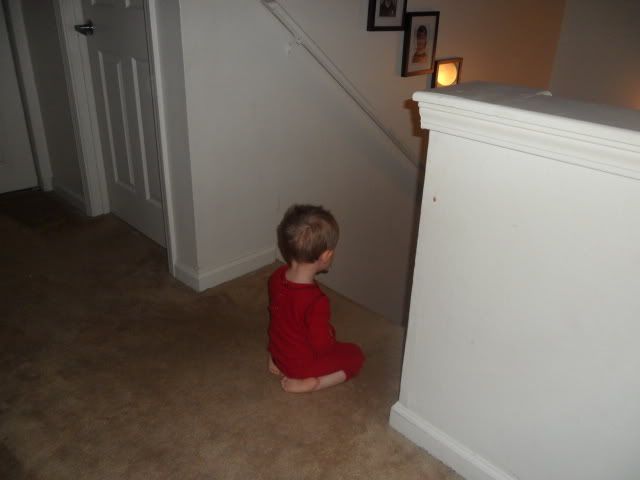 I'm going to call it quits here for a moment and break this into two parts, the homecoming ceremony and the surprises!