In our local schools students between the grades of 4th-7th have to take part in a social studies project/fair. For 4th grade it is optional extra points to take part in the Fair, but the older grades must. We figured if Cody had to write a 2 page paper and his grade could use a boost he might as well go full out and do the fair as well, then next year when Cody and Michael both had to do the fair they could switch and revamp each others projects and make things a tad easier since we could possibly be PCS-ing (permanent change of duty station) at that time and not really be able to dedicate the weeks it took us to get these done this past fall. Each student taking part had to write a 2-3 page essay on their subject (which has to be approved by their teacher), it also had to include a title page, table of contents, an abstract 2 paragraphs about what their essay will include, the main body of 2-3 pages, a conclusion page and then the bibliography. All in all it was between 8-9 pages.............for a 4th and 5th grader? Ya it seemed like a lot of work to me as well, seeing as not ONE OUNCE of this work was done or taught in class before this....yea. Then to accompany this, each student had to memorize their speech, and give it in a three minute oral presentation in front of the class and then judges in the auditorium, and be open for 3 minutes of questions....again...ya, a lot for this age when...once again none of it done in class, not even a single book from the library came home on either boy's subject. Then they had to purchase a tri-fold board from the school and have it decorated and chock full of information from their subject, and have a center piece. The board and center pieces alone took hours! Now you know the school said "The Student is to do the work but parental help is suggested". Suggested? My little heart broke when I saw the caliber of work some students turned in because of no help at home. One young lady turned in a piece of card board she colored on with crayons! She was so embarrassed. She sat with her head hung during the presentations. I literally teared up. If I hadn't helped these boys would have turned in something almost as sad. I can't believe that the school requires so much work to be done at home and none in class where the teacher could teach them A) how to properly research a subject B) how to write a research paper C) how to prioritize the information going on their boards D) how to give an oral presentation. They were judged on things ranging from the quality of information to creativity, artisticness, how well organized it was as well as their oral presentation and if they stuttered and so on. This project stressed me out! It stressed them out. I spent about $60 per boy on this between printer ink, paper, art supplies, gas to Alexandria to get the art supplies that aren't readily available in this area. There are families who could not afford this, don't have access to the Internet or a printer and don't have or GIVE the time needed to help their student to this level. Believe me the school and school board and I had MANY conversations about this, espesically since this state is failing in literacy and mathematics but is shoving a massive language arts/social studies project down the students throats and not teaching them how to do it but requiring the parent too. At this rate I might as well home school them! Now, mind you, my kids did AWESOME! What else would I expect of my boys? They picked subjects they loved, they studied hard, they spent endless hours prepping for this and then me and my little OCD self helped them organize it, type it, edit it, help them memorize it, did all the hot gluing, all the spray painting and things that a 9-10 year old at the time should not be doing. On the morning of the presentations Michael was sick, sick, sick. Good old Strep throat and fever were kicking his little bootey that morning and he was FORCED to come in and present or take the F with or without a doctors excuse note. Really?? Ya. So on the way into the fair he wanted to do it all himself and went to lift his center piece out of the car as I was getting Aidan in his stroller. The conversation went like this.
Michael "I'm gonna get this and take it in."
Me "No, no, no, hold on baby, I'll get that it's heavy and glass you don't wanna drop it, hold on."
Michael "I got it"
Me "No!!!! Michael no! Don't"
Michael "Mom! I gottttt...iiiiitttt--AHHHHHHHHH!!!!!!!!"
As the glass center peice smashed to the ground and shattered. Poor boy! He burst into tears as the giant glass bowl filled with blue jello (to represent the ocean filled with hand crafted clay penguins, orcas, and marine life with varied shades of blue jellos we worked a good 6 hours on the previous night). He was devastated. This picture was taken after I cleaned up as much of the jello and glass as I could from the parking lot.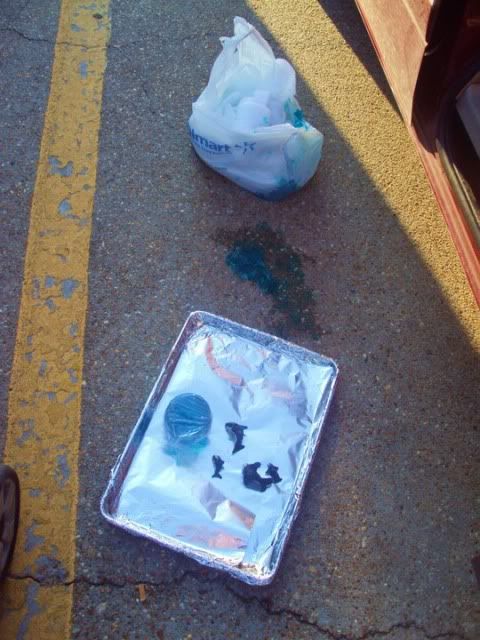 Despite the fever, little to no voice due to the strep, and being upset over looseing his center piece he gave a great preformance! I was so proud of him! You can see the fever in his eyes here. Poor guy!
Cody really didn't care about placeing at all. He just wanted to get those extra credit points but doing the board and presentation and so he gave it his all and ended up making 1st place in his categorgy! For a hot minute Michael was jealous and then he was the sweetest big brother and congratulated his little brother.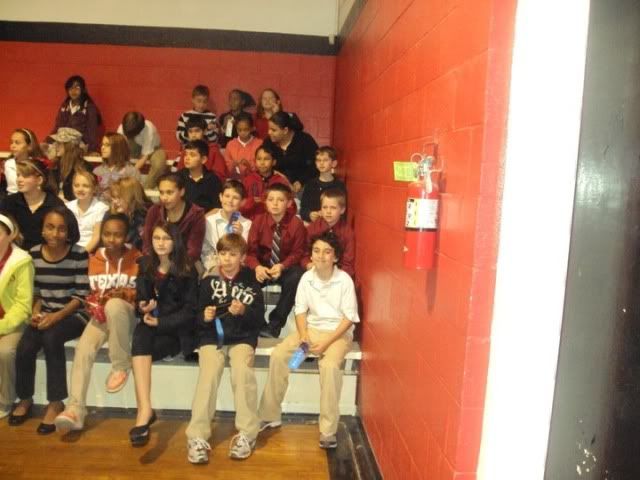 After the fair that day Michael went home sick with me and sick or not....this is what my sweet oldest boy does..........he takes care of those around him! His little baby brother was sick too and this is how he spent the afternoon, like a Momma bear. I had to pretty much FORCE him to let me take care of my own baby. lol this boy will make an amazing Father one day.
When Cody took 1st in his category two of his best friends from football took 1st in thier category as well which meant they would all move on to the Parish (county) level. Cody really didn't care if he was moving on, but wasn't going to complain so off we went a few weeks later to Parish levels and low and behold....he took 2nd..lol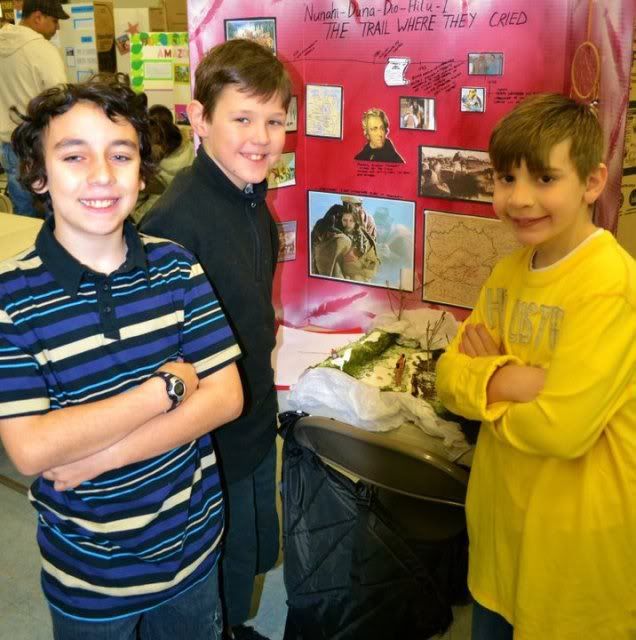 So this meant once again moving on to the regional levels in Natchitoches. YAY!! Natchitoches! Any excuse to spend the day there. However this was going to make it diffucult for a bunch of us Mommies, seeing as soccer season was in full swing and this was going to take place over an hour away on a Saturday DURING soccer games for Michael and Matthew. Thank Heavens for good friends! Mary had the brillant idea to switch kids! She took my two soccer players and I took her son Kameron and another boy AJ with me. This worked out wonderfully! I got to take them and spend the day with the three Amigos doing their projects. We had to kill about 3 hours between presentations and judgeing so I took the boys around town doing our favorite things. Ice cream from "The Louisiana Purchase" store, lunch at a seafood place, and Fort St. Jean Baptiste. They had a blast! They learned how the French Soldiers used to live, they got to try and start fire with flint and charcoal material, play old school marbles, and hold an old musket. It was a great afternoon.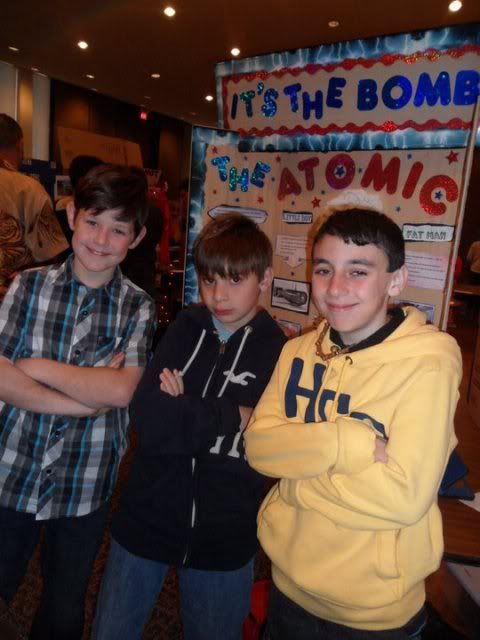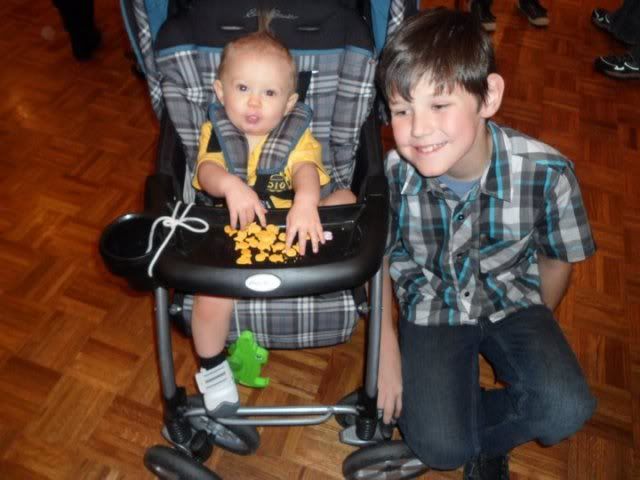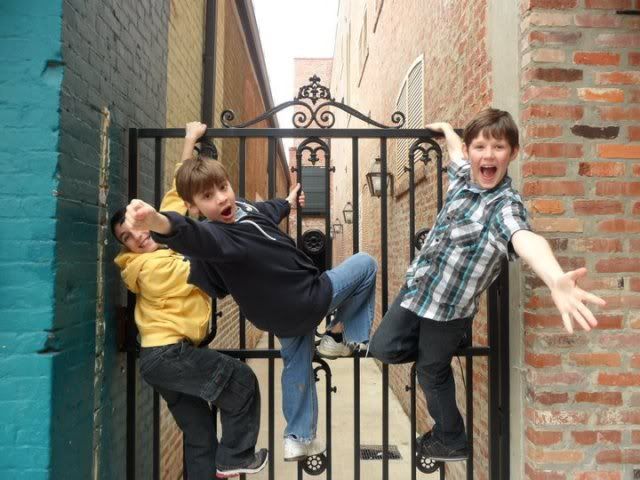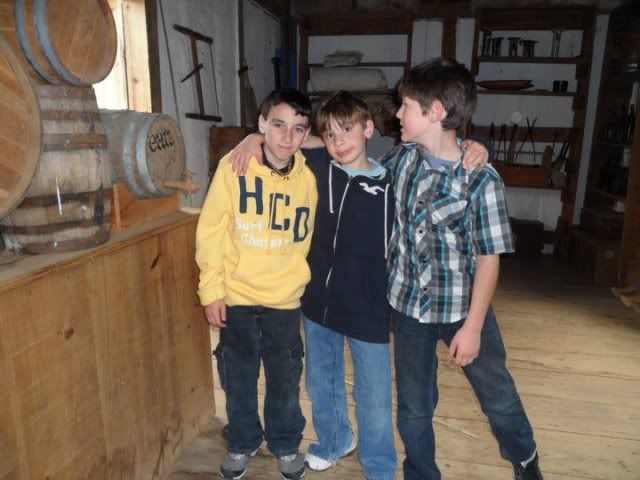 Had to sneak a picture of Aidan and I in there!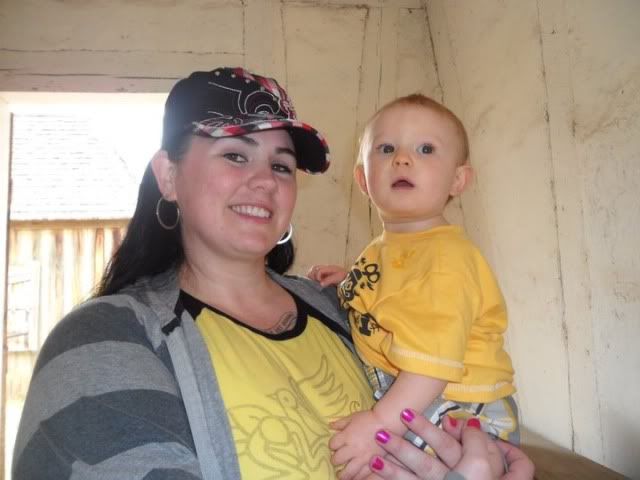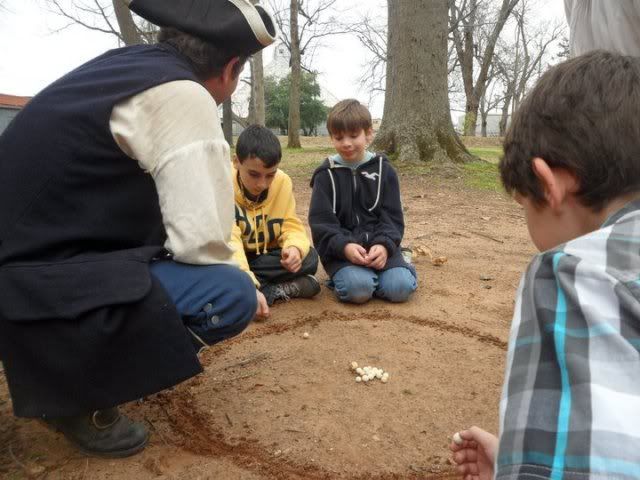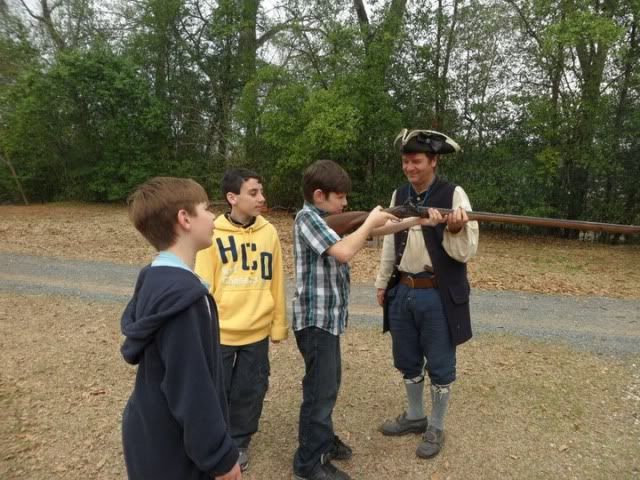 When judgeing rolled around Kameron and Aj (who were a team) did end up placeing. Cody however did not. I held my breath for a second waiting to see how he would deal with the fact that his buddies placed and he didn't and this is what came out of his mouth...." I'm done??!! SAAAAAAA-WEEEEEEETTTTTTTT!!! I'm done, I'm done, no more social studies fairs wooooot woooottttt!!!" LOL evidently he was fine with it!
This project did end up teaching us a lot. A lot about how the schools here are pushing too much on students they have yet to teach these things too, requiring the parents to basicaly do the projects for them, how to win and loose gracefully, and how my military family always surprises me with it's support of one another! I couldn't have done this as smoothly without the help of another fantastic Mommy who took my boys and cheered them on during thier games and trusted me with her son. She made sure my boys had just as much fun with her and her kids as the other kids with me had that day. It was all in all a really fun experience. An experience I am NOT looking forward to repeating next fall but I don't really have a choice in that do I... lol Now that I've bragged on Cody and all that he did over those weeks I have to make sure I slip this in there too. Michael graduated from the D.A.R.E. program here and man oh man was he proud! I was too! This boy really has his priorities straight and I am so proud of him!
<>